English
Port of Rotterdam: the Digital Twin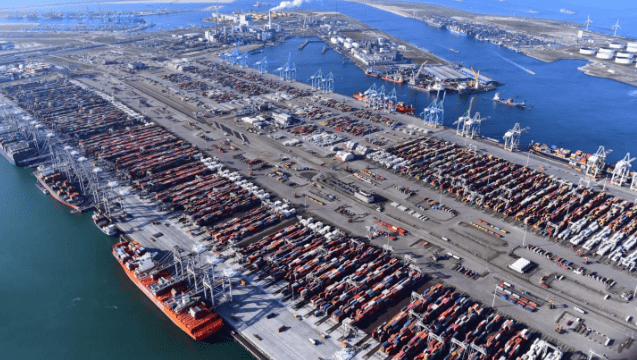 The Port of Rotterdam has one of the best practices in the digitization of ports in the world and runs a Digital Twin project.
In that port, a knowledge base has been created within the community's human capital to test, develop and implement a broad technology ecosystem, ranging from its PCS Portbase, to the Harbor Master (HaMIS) digital platform.
According to a report released by the Asia Pacific Economic Cooperation (APEC) forum, an interesting case in point is its ambitious project to create a complete Digital Twin (DT) of the port.
The definition of DT appears in the literature with various explanations, but in summary it can be defined as a virtual representation of a physical object or system during its life cycle, using real-time data that allows to understand, learn and improve the processes of the objects or systems.
As a first step, the port authority carried out the Internet of Things (IoT) project, which included the deployment of a sensor network in a 12,500-hectare port area.
These sensors can now provide a wealth of data on the status of different attributes, ranging from real-time positioning of objects (e.g. ships) to hydrological or meteorological data.
At a later stage, a complete Digital Twin of the port will be created. That is, the descriptive capabilities of sensing technologies can be combined with the use of scenarios, through simulation/emulation and AI-based algorithms, to understand and eventually prescribe courses of action to improve efficiency in different operations and activities in a cost-effective manner.
Port of Rotterdam
The APEC report further indicates that Rotterdam is a clear example of how bringing together the port community, educational centers, research institutions, startup accelerators and other public and private stakeholders can be a well-embraced approach to encompass an innovative ecosystem.
What may be interesting, for the purposes of the APEC study, is to highlight the active role that the port authority has played over the years, embracing a culture of openness towards digitalization and seeing it as an opportunity rather than a threat to the entire cluster.
With an agile and entrepreneurial mindset, the port authority initially created a laboratory where digital products could be tested for added value with the port's customers, which eventually evolved into a dedicated digital product development department.
Advantages
In addition, the port authority and other stakeholders decided to revitalize the former port area to make it future-proof.
In this regard, the Rotterdam Makers District (RMD) was created as a cultivation cluster, a testing ground for the creative economy, in which digitalization plays an important role.
Also, the Port of Rotterdam Authority is a founding member of PortXL, one of the world's largest maritime accelerators, which connects with key players in the industry to present, together with start-ups, innovative solutions -in many cases based on digital technology- that can address the challenges of the port and maritime sector.