English
Tulum airport to start operations in 2023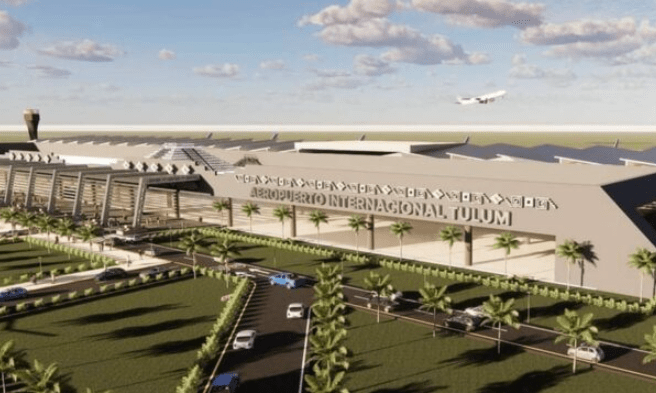 The Mexican Army began construction of the new Tulum Airport in the state of Quintana Roo, Mexico, with plans to begin operations in 2023.
The Mexican Army will also operate the new Tulum Airport.
The project has a planned investment of 3.2 billion pesos, with a projected capacity to serve four million passengers annually.
In October 2020, the President of Mexico announced that, as part of an effort to develop southeastern Mexico, the Mexican Army will build the new airport.
Previously, the Mexican government had secured approximately 1,200 hectares of land where it will build the new airport, and has announced that the inauguration of the airport will coincide with the inauguration of the Tren Maya.
The Tren Maya is an intercity rail project that will connect airports and Mayan historical sites in Mexico, with rail coverage in the states of Chiapas, Yucatan and Quintana Roo.
Construction of the new Tulum airport will begin in 2022, which could affect passenger traffic at the Cancun airport.
Tulum Airport
On November 24 and 25, 2018, President Andrés Manuel López Obrador and Morena held another popular consultation.
In this referendum, voters approved the construction of a railroad, labeled the Tren Maya, which would connect Mayan archaeological and tourist sites in five southeastern states – Campeche, Chiapas, Quintana Roo, Tabasco and Yucatán.
The Mayan Train was planned as a four-year, $7.4 billion project that would connect Palenque to Cancun.
A series of protests and legal challenges have slowed the completion of the Mayan train, which the Mexican government now hopes to complete in 2023.
The Mayan Train is expected to begin operating at the end of the President's six-year term. It will connect the states of Yucatan, Campeche, Quintana Roo, Tabasco and Chiapas and involves 1,500 kilometers of new rail infrastructure for tourists, passengers and cargo.
In addition, the Tren Maya is expected to have the capacity to transport 3 million visitors per year. The estimated investment for the Mayan Train is between 120,000 and 150,000 million pesos, and the construction phase is expected to create 300,000 direct jobs.