English
Top 5 electric vehicles investors
The top investors in electric vehicles and batteries (combined) include all major car manufacturers, with Tesla (United States) leading the way, followed by BMW (Germany), Hyundai (Republic of Korea), Toyota (Japan) and Volkswagen (Germany).
Furthermore, according to the United Nations Conference on Trade and Development (UNCTAD), the top 10 transnational investors account for around 50% of international projects and also include major battery producers such as China's Contemporary Amperex Technology (China) and LG (Republic of Korea).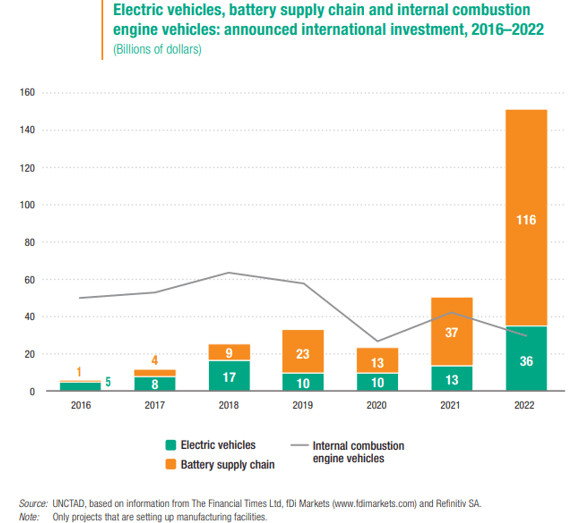 As electric vehicles become more widespread, investment in electric charging infrastructure should increase.
However, UNCTAD indicated that most of these projects are currently being undertaken by domestic investors.
The number of registered international projects represents only one fifth of the total number of projects.
In addition, very few projects are registered for the development of electric vehicle charging stations in developing economies.
Electric vehicles
Between 2016 and 2020, half of the international investment in batteries went to Europe (Germany, 26%; France, 11%; Hungary, 10%), followed by China (17%), the United States (15%) and Indonesia (10%).
Other top destinations for battery manufacturing among developing countries were Brazil, India, Malaysia and Mexico (in that order).
In 2021 and 2022, the US attracted 40% of all investments, Europe around 30% and Indonesia 11%.
The largest project was announced by Hon Hai Group (Taiwan Province of China): an $8 billion project in Indonesia to manufacture electric vehicles and batteries.
The project has been developed in the framework of a cooperation agreement between the Indonesian Ministry of Investment, Indonesia Battery Corporation, Indonesian coal miner Indika and scooter manufacturer Gogoro (Taiwan Province of China).
Cooperation will also extend to the development of electric vehicle support industries, such as energy storage systems, battery exchange stations and battery recycling.
Indonesia is a major nickel producer; the international cooperation framework aims to leverage its supplies of nickel laterite ore (used in lithium batteries) to become a global hub for electric vehicle production and export.