English
The IGAE and the characteristics of Mexico's economy
The Global Indicator of Economic Activity (IGAE) of Mexico increased 1% in August 2022, at a monthly rate and with seasonally adjusted figures, Inegi informed this Tuesday.
In a panoramic manner, the Mexican economy manifested during the last five years a relatively slow growth, exacerbated by the negative effects of the Covid-19 pandemic, which led to a strong GDP contraction in 2020 and a partial recovery in 2021.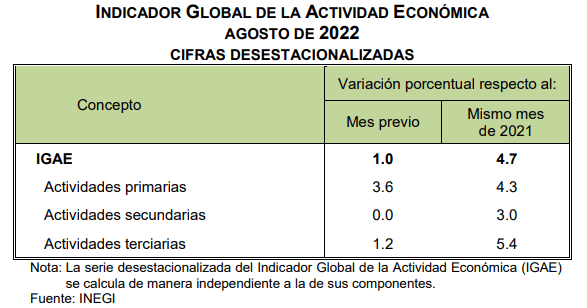 In particular, the IGAE allows us to know and monitor the monthly evolution of the real sector of the economy.
For its calculation, the following are used: the conceptual scheme, the methodological criteria, the classification of economic activities and the sources of information, which are used in the annual and quarterly calculations of the Gross Domestic Product.
This calculation is aligned with the annual figures using the Denton technique. It incorporates Primary, Secondary and Tertiary Activities, with the exception of: fishing, forestry, corporate and other service activities.
By component and with seasonally adjusted data, in August 2022, the monthly variation of the IGAE was as follows: primary activities increased 3.6 %; tertiary activities, 1.2 % and secondary activities presented no change.
At annual rate and with seasonally adjusted series, the IGAE advanced 4.7% in real terms in August. By large groups of activities, tertiary activities grew 5.4%; primary activities, 4.3%; and secondary activities, 3 percent.
IGAE
Faced with the shock of the pandemic, Mexican authorities responded by implementing a series of measures to promote a more orderly behavior of markets and to attend above all to the most affected families and companies, particularly micro, small and medium-sized enterprises (MSMEs).
According to information from the World Trade Organization (WTO), these measures included the opening of facilities to provide an adequate level of liquidity in short-term funding markets, fostering orderly behavior in financial markets and strengthening credit granting channels.
Other measures included a temporary suspension of credit card payments, a moratorium on the payment of principal and interest for those borrowers whose source of income was affected by the pandemic, incentives for the restructuring of bank loans, and the implementation of social programs and support programs for businesses.
Among these is the Financial Support Program for Family Microenterprises.
Regarding the sectoral composition of GDP, during the 2017-2021 period, an increase in the GDP share of sectors related to the production of goods and a reduction in the share of services was observed.
This reflects the fact that, despite the fact that all economic sectors were negatively affected by the Covid-19 pandemic and the measures taken to curb the contagion, it was the service-related activities that were most impacted.