English
The 20 new gold projects in Mexico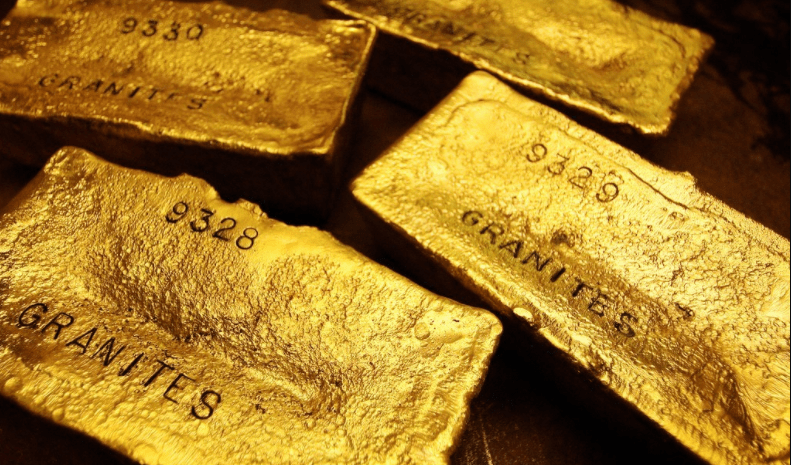 The Mining Chamber of Mexico (Camimex) ranked the top 20 new gold projects in Mexico, with a combined investment of 7.706 billion dollars.
The new gold projects represent an approximate production of 1,730,600 ounces, with a start-up year of 2022 to 2028.
According to Camimex, it is expected that with the opening of the new mines operating at full capacity, gold mining production will increase substantially in Mexico, maintaining its position as one of the world's leading producers.
With an investment of more than 50 million dollars, the "Tahuehueto" project, located in Durango, owned by Altaley Mining, will conclude the construction of a 1,000 tons per day processing plant, which will allow the project to start commercial production in the second quarter of 2022.
This project is expected to produce 27,000 ounces of gold and 260,000 ounces of silver.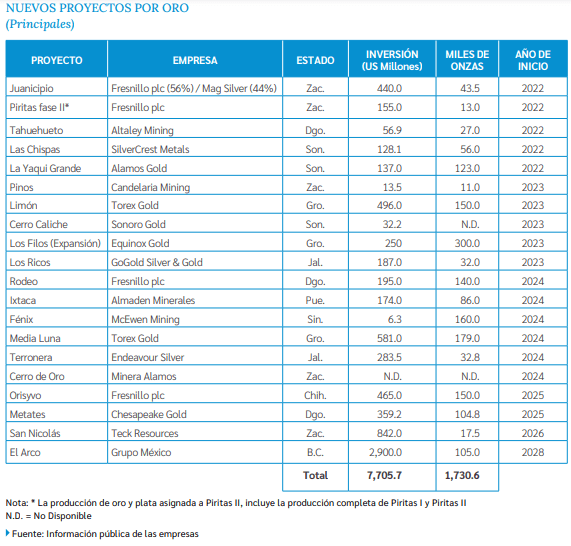 Also, in the first quarter of 2021, SilverCrest Metals announced positive results from the feasibility study of its "Las Chispas" project, located in Sonora, and began construction of the mine, registering 86.2% progress at the end of that year.
The company's investment amounted to US$128.1 million, distributed as follows: US$14.6 million for plant and equipment purchases, US$55.5 million for mine construction, and US$58 million for land.
It is also projected to start operations in the second half of 2022 and have a production of 56,000 ounces of gold and 5.2 million ounces of silver.
Gold Projects
Candelaria Mining is advancing in the development of its "Pinos" project in Zacatecas to restart operations in 2023.
In 2022, the company will update the mine design and production plans and update the 2018 preliminary economic report.
Candelaria Mining already has the necessary permits for construction and operation.
The company's board of directors expects to make the construction decision during the first quarter of 2022 and could last 12 to 14 months with a seven-year mine life.
A project that will add 123,000 ounces of gold to Alamos Gold's production is "La Yaqui Grande" in Sonora, starting operations in the third quarter of 2022.
In 2021, approximately $102 million dollars were invested in the project and it is expected that this new mine will reduce the company's operating costs.
In Guerrero, Torex Gold continues to advance the "Media Luna" feasibility study to make a final decision on the project in the first quarter of 2022 and maintain the schedule for first production in the first quarter of 2024.
Construction is expected to start in the second quarter of 2022.
Through 2021, $203.5 million has been invested since development began. US$72.7 million was allocated for the development of the Guajes tunnel (including development, equipment purchases and infrastructure) and the development of the Upper and Lower South Portal.
The company initiated the necessary permitting procedures prior to commencing production.