English
The 15 largest exporters of footwear to the United States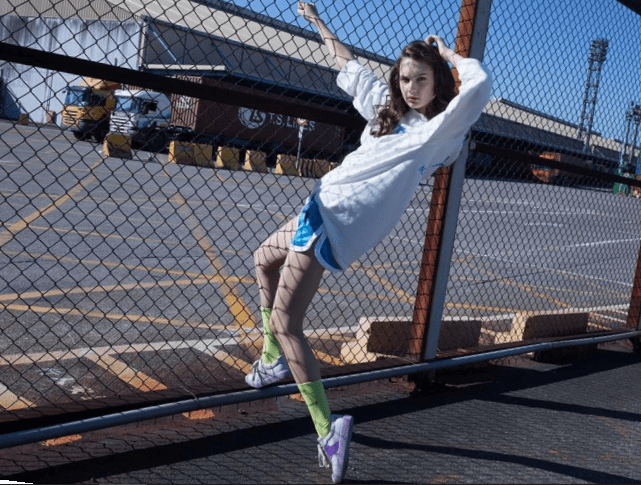 China and Vietnam ranked as the largest exporters of footwear to the U.S. market in 2021, according to data from the U.S. International Trade Commission (USITC).
Overall, the U.S. footwear market is supplied almost entirely by imports, which accounted for 95.9 percent of U.S. consumption in 2021.
U.S. footwear imports grew by $6.5 billion (31.4 percent) to $27.2 billion in 2021.
The increase in U.S. footwear imports was driven primarily by an increase in consumer spending due to pent-up demand in 2020.
Footwear: U.S. general imports by select trading partners from 2017 to 2021 In millions of dollars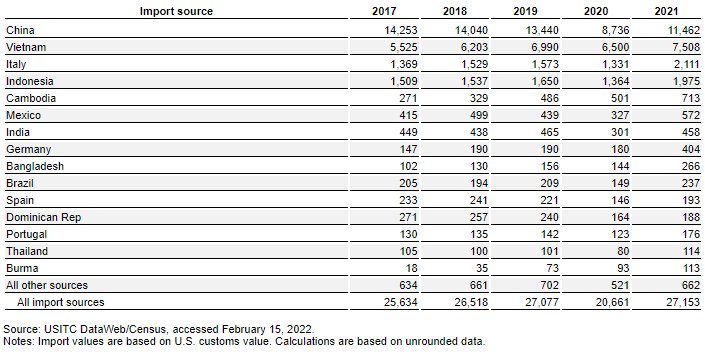 Thus, consumer demand increased in 2021 as restrictions related to the Covid-19 pandemic eased in the U.S., allowing customers to purchase in-person, as well as online, shoes for activities such as entertainment and office work.
USITC statistics show that consumer spending on footwear increased 29.8 percent in 2021.
Other relevant footwear exporters were Italy, Indonesia, Cambodia, Mexico and India.
The two largest sources for U.S. footwear imports in 2021 were China and Vietnam, together accounting for 69.9 percent of all U.S. imports.
Exporters of footwear
The United States imported a variety of footwear products from China in 2021, totaling nearly $11.5 billion, an increase of $2.7 billion (31.2 percent).
China remains the largest supplier of U.S. footwear, and its market share continued to decline in 2021, albeit at a slower pace than in previous years.
U.S. companies sought to diversify their sourcing options amid changing market dynamics, including China's rising production costs and additional duties imposed on imports from China under Section 301 of the Trade Act of 1974.
Despite the challenges associated with sourcing from China, footwear manufacturing in China continued to benefit from vertically integrated supply chains.
Although the cost of production has led many U.S. importers to seek alternative sourcing locations, industry representatives assert that no other country can currently match the footwear production capacity of China, who has its access to raw materials or has the infrastructure to supply the footwear components needed for the styles demanded in the U.S. market.