English
Olmeca Refinery: its investment and progress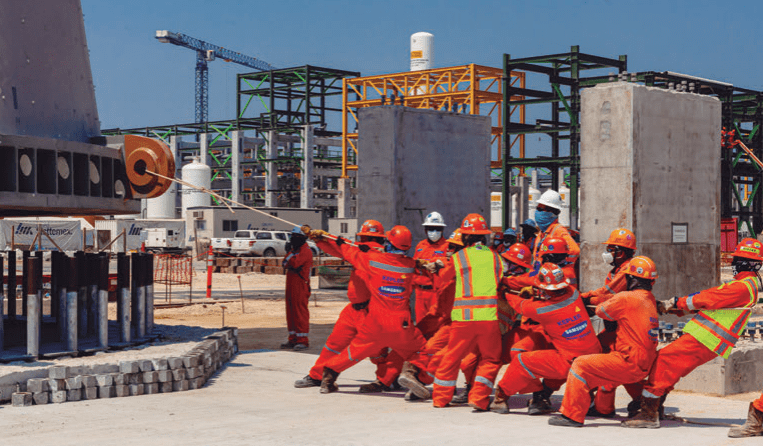 On July 1, 2022, the completion of Phase I construction of the Olmeca Refinery in Mexico was inaugurated and, at a later stage, the testing phase of the different process plants will begin.
Investments during the first construction phase total US$8,918.5 million, plus US$1,426 million in VAT, including basic engineering, studies, soil improvement, site adaptation, acquisition of critical equipment with long manufacturing times and modular plants, manufacturing of the storage system, detailed engineering and plant construction.
As of June 30, 2022, 34,723 direct jobs and 211,733 indirect jobs have been generated.
In particular, the manufacturing of the modular plants is 98.9 percent complete and the construction of the administrative buildings is 100 percent complete.
This project also included associated works such as a 65-kilometer gas pipeline, a 28-kilometer aqueduct, and a 280-megawatt electric cogeneration system.
This refinery will process 340,000 barrels per day, to obtain 170,000 BPD of gasoline and 120,000 BPD of diesel. This will contribute to achieving Mexico's energy self-sufficiency by 2023.
Olmeca Refinery
The Mexican government promoted the construction of this new refinery, located in Dos Bocas, Tabasco, in order to increase the production of higher value-added products in the country, safeguard the trade balance and detonate economic and social development.
The critical equipment, materials and accessories are now 100% complete, and testing of the process control system has begun, where the civil works have been completed for the assembly of the major equipment, continuing with the installation of piping and electronics for general integration, testing and start-up.
From the perspective of the Ministry of Energy (Sener), the wisdom of building this refinery immediately and before the pandemic helped to obtain the best prices at the time.
Today it would be impossible to build it in the same time and at the same cost, since the Russia–Ukraine war and the world situation have increased the price of steel by more than 200% and maritime transportation by up to 500%, as well as a worldwide shortage phenomenon.
The government projects that this new refinery will contribute, together with the rehabilitation of the National Refining System, to achieve self-sufficiency in the production of gasoline, diesel and turbosine, which will help to substitute imports of these fuels, mitigate inflationary effects due to the volatility of international oil prices and strengthen the domestic market.