Empresas
Multinacionales farmacéuticas se benefician por Covid-19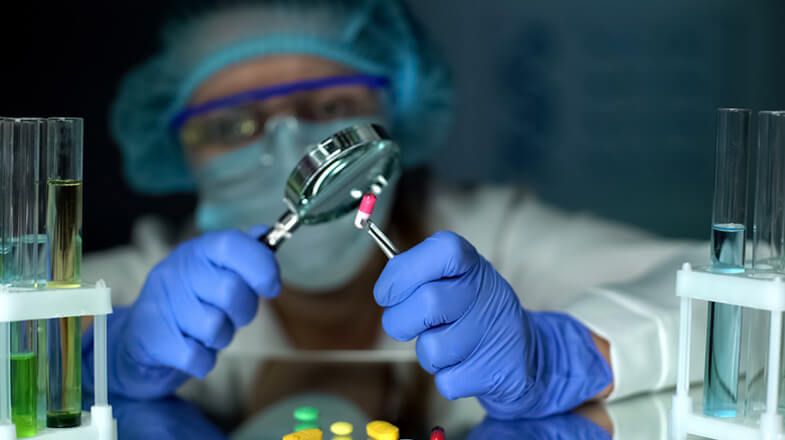 La pandemia impulsó la demanda de productos de multinacionales farmacéuticas y de servicios de atención de la salud, lo que generó un aumento de los ingresos de 15% en el sector de la salud, especialmente en los mercados extranjeros (18%) en 2021, indicó un informe de la Conferencia de Naciones Unidas sobre Comercio y Desarrollo (UNCTAD).
Al mismo tiempo, la búsqueda de empresas más pequeñas exitosas para ayudar a desarrollar nuevos productos condujo a numerosas adquisiciones internacionales y un aumento promedio de 20% en activos extranjeros para las multinacionales farmacéuticas.
El mayor de esos acuerdos fue la adquisición por parte de Novartis (Suiza) de The Medicines (Estados Unidos) por 7,400 millones de dólares.
UNCTAD
En contraste, golpeadas por la caída del precio del petróleo a principios de año, las ventas de las empresas multinacionales de petróleo y gas cayeron un 30 por ciento.
El informe de la UNCTAD agrega que esto condujo a una paralización de las inversiones extranjeras y, en algunos casos, a programas de reestructuración y desinversión de activos, lo que llevó a una menor presencia extranjera.
Por ejemplo, Royal Dutch Shell (Países Bajos–Reino Unido) se deshizo de alrededor de 15 % de los activos extranjeros durante 2020, y Equinor (Noruega) y BP (Reino Unido) alrededor de 10 por ciento.
Internationalization statistics of the 100 largest non-nancial MNEs, worldwide and from developing and transition economies
(Billions of dollars, thousands of employees and per cent)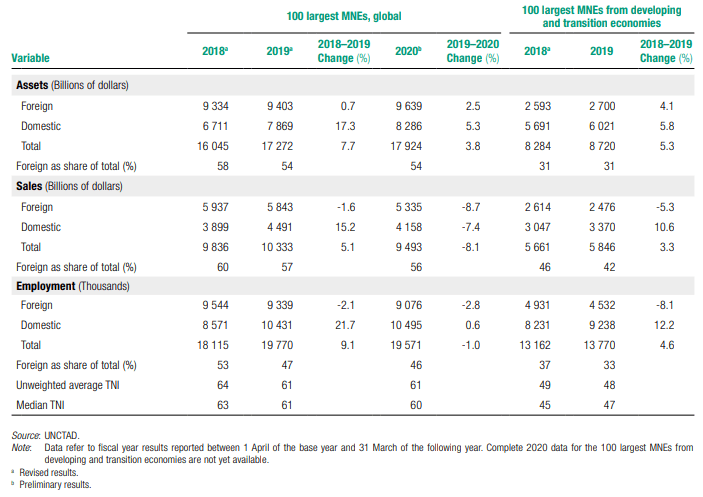 ExxonMobil (Estados Unidos) espera generar 15,000 millones de dólares de desinversiones en 2021 (principalmente en el extranjero) y hasta 25,000 millones para 2025.
Las principales empresas multinacionales de energía como TC Energy (Canadá) y Repsol (España) redujeron sus operaciones y producción en el extranjero a medida en que se deslizaron fuera del ranking de los 100 mejores.
En general, los niveles de internacionalización de las 100 principales EMN se estancaron en 2020.
Multinacionales farmacéuticas
Las empresas multinacionales de la energía y la industria pesada redujeron su presencia en el extranjero.
Otros, incluidos los productos de empresas farmacéuticas y de las telecomunicaciones, ampliaron sus operaciones internacionales.
Industrias livianas, servicios públicos y empresas automotrices y comerciales, aunque también sufrieron menores ventas durante el año, mantuvieron estable su estructura de producción internacional.
Las empresas multinacionales extractivas, de la industria pesada y de la construcción sufrieron una caída media de las ventas al exterior de más de 15 por ciento.