English
Merchandise trade: WTO forecasts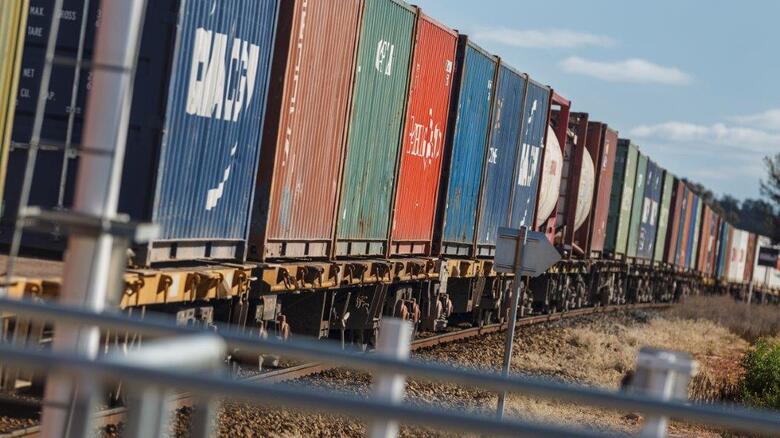 Based on estimated confidence intervals, global merchandise trade growth in 2022 could be as low as 0.5% or as high as 5.5%, but could also fall outside this range if underlying macroeconomic conditions change greatly.
These are the latest World Trade Organization (WTO) forecasts for merchandise trade.
From the Organization's perspective, the forecasts are likely to worsen, particularly if inflationary expectations take hold and Central Banks accelerate the pace of monetary policy tightening.
There is some chance that forecasts could improve slightly if the conflict ends sooner than expected, but they are equally likely to worsen if the conflict escalates.
The WTO now forecasts merchandise trade volume growth of 3.0 percent in 2022, lower than the previous forecast, made last October, of 4.7 percent.
Volumen del comercio mundial de mercancías, 2015T1-2023T4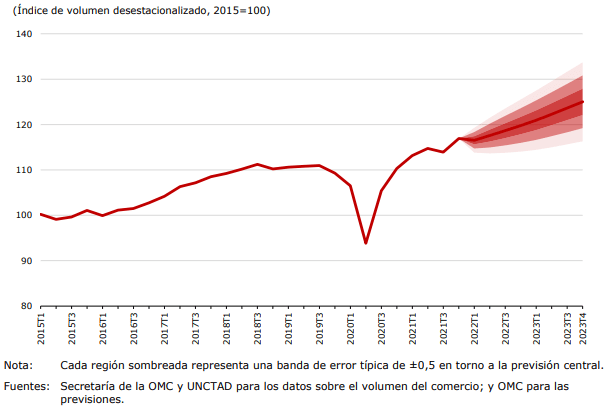 Likewise, the WTO forecasts trade growth of 3.4 percent in 2023, but the long-term projections should not be taken too much into account for the time being, as the results will depend mainly on how the conflict develops. The WTO trade forecasts assume that world GDP at market exchange rates will increase 2.8% in 2022 and 3.2% in 2023.
With little robust data on the economic impact of the dispute, the WTO relied on simulations to generate reasonable GDP estimates for forecasting purposes.
Merchandise trade
According to the WTO, these simulations reflect: the direct impact of the conflict in Ukraine, including the widespread destruction of factors of production; the effects of sanctions imposed on the Russian Federation, including increased trade and transaction costs; and the slowdown in aggregate demand growth in the rest of the world due to reduced business and consumer confidence.
The forecasts do not take into account the potential impact of food export restrictions, nor the long-term impact of economic decoupling based on geopolitical concerns.
In 2021, merchandise trade volume growth stood at 9.8%, slightly below existing forecasts (10.8% last October).
The decline is partly explained by the emergence of the Delta variant of the Covid-19 pandemic, which contributed to a quarter-on-quarter decline in global merchandise trade volume of 0.7% in the third quarter of last year.
To date, approximately two-thirds of the world's population has received at least one dose of a vaccine, including 80% of eligible persons in high-income countries, 82% in upper-middle-income countries, 61% in lower-middle-income countries, and only 16% in low-income countries.
Due to the unpredictable nature of the conflict and the continuing threat posed by the pandemic, the degree of uncertainty with respect to current forecasts is unusually high.