English
Investment in Mexico's federal highways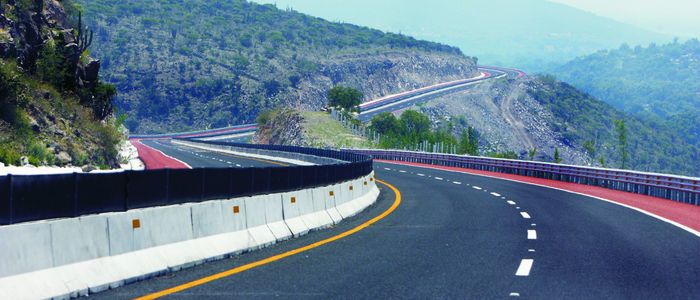 Mexico's federal government reported that it invested 1,558.4 million pesos in the construction and modernization of nine federal highways and the execution of two programs (right-of-way release and, studies and projects) the first half of 2022.
From September 2021 to June 2022, the following actions were carried out:
72.8 kilometers of federal highways were built and modernized with an investment of 3,764 million pesos.
Four works were completed with an investment of 2,707.8 million pesos:
– Ensenada bypass, in Baja California.
– Izúcar de Matamoros-Huajuapan de León, section: Izúcar de Matamoros-Acatlán de Osorio, in Puebla.
– Section: Periférico Ecológico-Atlixco, in Puebla.
– PSV Entronque Ruiz Cortines, Mexico-Nogales, in Sinaloa.
Federal Highways
Work also began on two projects in the tourist area of Cancun, Quintana Roo: Rehabilitation of the MEX-307 Reforma Agraria-Puerto Juarez Highway, Section: Colosio Boulevard and Cancun Airport Junction.
At the same time, the government continued with the construction and modernization of works such as: Acapulco-Huatulco, section: Las Vigas, border between the states of Oaxaca and Guerrero, Guerrero; Modernization of the federal highway Mex-085 Portezuelo-Cd. Valles, San Luis Potosí; Estación Chontalpa-Entronque Las Choapas-Ocozocoautla Highway, Tabasco; La Ventosa-Acayucan, Oaxaca and Veracruz; and Ozuluama-Tampico, Veracruz.
Trunk highway corridors
The government made 59 kilometers of progress in the construction and/or modernization of 12 federal concession highways:
Barranca Larga-Ventanilla, Cardel-Poza Rica, Ecatepec-Peñón, Las Varas-Puerto Vallarta, Mitla- Tehuantepec, Tuxtla Gutiérrez-San Cristóbal de Las Casas, Libramiento Ciudad Juárez, Pátzcuaro-Uruapan, Compostela-Las Varas, Ramal Guadalupe Victoria, Viaducto Santa Catarina and Ecuandureo-La Piedad.
On the other hand, the operation of four new stretches of federal concession highways began, covering 134.1 kilometers:
– The 21-kilometer Libramiento Poniente de Acapulco, in the state of Guerrero, was put into operation in April 2022.
– The 76.3-kilometer Laguna Verde-Nautla section of the Cardel-Poza Rica highway, in the state of Veracruz, began operating in April 2022.
– The Las Varas-Puerto Vallarta highway began operating with the opening of the 24.3-kilometer Entronque El Capomo-Entronque La Florida section, in the state of Nayarit.
– In April 2022, the Nabor Carrillo-Tequisistlán section of the Ecatepec-Peñón highway, with a length of 12.5 kilometers in the state of Mexico, began operating.
Finally, the government completed the modernization of the Mexico-Pachuca highway to eight lanes along 15.6 kilometers, with an investment of 2.64 billion pesos, in the state of Mexico.