English
Exports in the poultry industry: Brazil's strength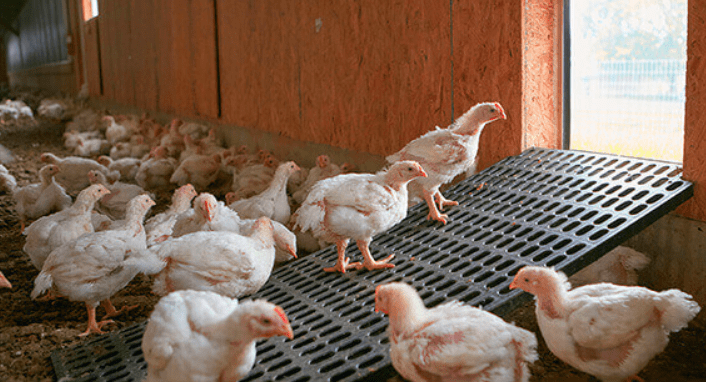 Exports in the Brazilian poultry industry grew rapidly between 2001 and 2021 and its world leadership will be maintained in the coming years, according to forecasts published in an analysis by the United States Department of Agriculture (USDA).
The country regained the title of the world's largest poultry exporter in 2007.
In particular, increased domestic production of poultry feed (feed grains and soybeans) helped drive the expansion of Brazil's poultry production.
From 2015 to 2019, China accounted for an annual average of 13% of Brazilian poultry exports.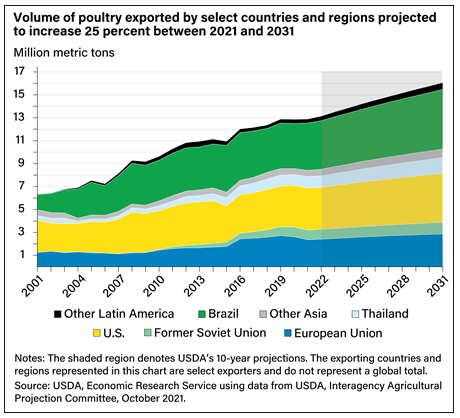 By comparison, the United States sent 1% of its poultry exports to China during that time.
Brazil's exports have also increased to markets in Europe and the Middle East.
According to the same analysis, Brazil is forecast to remain the world's leading poultry exporter, with an increase of 5.2 million metric tons by 2031.
Poultry industry
The three largest exporters (by volume) are Brazil, the United States and the European Union (EU). Together, they accounted for 71% of global poultry exports in 2021, a share that is expected to remain virtually stable in 2031.
The other four major exporting regions, "Others in Latin America," "Others in Asia," Thailand, and the former Soviet Union, accounted for 19% of global poultry exports in 2021. Their share is expected to increase slightly in 2031.
Like Brazil, the EU poultry export market grew between 2001 and 2021, although the region remains the world's third largest exporter.
This growth is mainly due to import demand in sub-Saharan African markets such as Ghana and the Democratic Republic of Congo, as well as Hong Kong and Saudi Arabia.
U.S. shipments
Despite losing some export market share to Brazil, the United States remains the second largest exporter of poultry and is expected to remain so for the next 10 years.
Although U.S. poultry exports are expected to increase through 2031, the U.S. share of global poultry exports is projected to decline slightly to 24% from 26% in 2021.
The U.S. saw a significant decline in exports to China during their 2018-19 trade dispute, with an average annual decline of 37% between 2015 and 2019 before rebounding in 2020.
However, U.S. exports to Latin American countries, particularly Cuba, Guatemala and Colombia, have expanded over the past decade.
Exports to South Africa also increased as trade restrictions have eased since 2015. U.S. exports of chicken meat are primarily in the form of dark meat, specifically leg quarters (the uncut leg and thigh).