English
CAAAREM and CONCAMIN sign collaboration agreement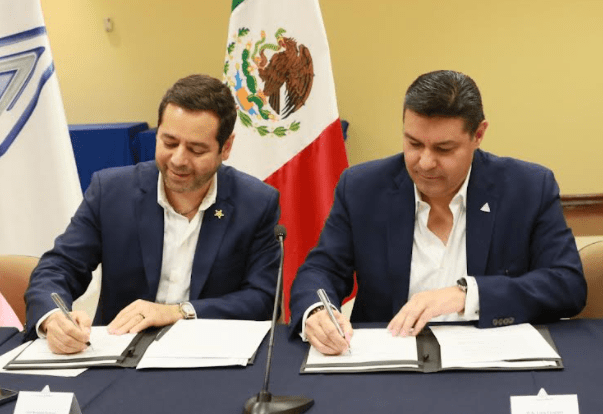 The Confederation of Customs Brokers Associations of the Mexican Republic (CAAAREM) and the Confederation of Industrial Chambers of the United Mexican States (CONCAMIN) signed a collaboration agreement to promote foreign trade and encourage best customs practices.
Luis Ernesto Rodríguez Gil, president of CAAAREM, and José Abugaber Andonie, president of CONCAMIN, signed the agreement, which is related to different customs issues to improve logistics and trade facilitation.
Rodriguez Gil said that Customs Brokers are a thermometer that detects areas of opportunity in the daily clearance of goods carried out by importers and exporters in Mexico, being able to generate important value propositions that translate into greater logistical efficiency and guarantee the best international practices.
For his part, Abugaber Andonie recognized the work of CAAAREM Customs Brokers who enable legal trade and ensure the facilitation of logistics flows.
"The objective of the agreement between CAAAREM and Concamin is to establish the bases and mechanisms for collaboration between the two to promote actions that boost Mexican foreign trade, as well as to promote best practices in customs matters," he said.
Concamin
Rodríguez Gil pointed out that the World Customs Organization recognizes that the customs systems with the most positive results in terms of efficiency, agility and transparency are those in which the Customs Administrations, the other authorities that regulate trade and the private sector involved in logistics chains work together.
"Hence the importance of this collaboration agreement to combine talents and generate proposals to the federal government, follow up on projects and continue strengthening the fight against smuggling, undervaluation and promote the development of national industry," he added.
Also Rodríguez Gil referred that the President of the Republic began one of the most important transformations that the customs system has experienced in more than 100 years: the creation of the National Customs Agency of Mexico (ANAM), adding the direct participation of the country's Armed Forces in the customs clearance of goods.
"Today, more than ever, we need a much closer coordination between SAT, ANAM and the Armed Forces, as well as the participation of the private sector as the strategic axis of the customs system we all want, which will facilitate trade and at the same time guarantee better controls and increase revenue collection," concluded Rodríguez Gil.