English
Trade Relations: United States and Canada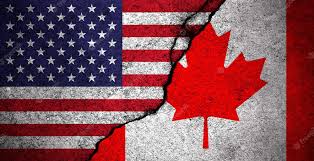 The United States and Canada have one of the largest bilateral trade relationships in the world, including a highly integrated energy and automotive market, a U.S. congressional analysis highlights.
The countries have maintained free trade for more than three decades under the North American Free Trade Agreement (NAFTA) and the U.S.-Mexico-Canada Agreement (USMCA).
In 2022, Canada was the third largest supplier of goods imports to the United States ($437.7 billion), accounting for 13.5% of total U.S. goods imports.
At the same time, the United States was the top destination for Canadian goods exports, receiving 77% of Canadian goods exports in 2022.
Canada was the largest buyer of U.S. goods in 2022, receiving 17% of U.S. goods exports in that year.
The United States is the leading exporter of goods to Canada, providing nearly half of Canadian imports ($278.9 billion in 2022).
On the other hand, Canada ranked as the fourth largest services export destination and importer of U.S. services in 2022.
Canada's top services exports to Canada in 2022 included business services, travel and financial services.
Conversely, Canada's top services imports in 2022 included business services, transportation and travel.
Trade Relationships
As of 2021, the United States is the largest source of foreign direct investment (FDI) in Canada ($406.4 billion); Canada is the third largest source of FDI by stock in the United States ($527.9 billion).
Trade levels in both goods and services were substantially reduced in 2020 due to travel restrictions and the overall economic impact associated with the Covid-19 pandemic.
By 2022, trade levels had recovered and exceeded 2019 levels in value.
A notable exception is the travel sector, which was particularly affected by pandemic-related border closures.
Although the travel sector recovered in 2022, it has not yet reached pre-2019 levels, measured in value.
U.S. and Canadian officials continue to express divergent views on long-standing disputes involving Canada's dairy and softwood lumber industries and U.S. government procurement practices.