English
Top 30 automotive companies in Mexico
According to Inegi, 30 automotive companies stand out in Mexico considering their sales of light vehicles in the domestic market.
From January to October 2022, these sales totaled 869,628 units, which represents a growth of 4.2%, year over year.
The 30 companies are: Acura, Audi, Bentley, BMW Group, Ford Motor, General Motors, Honda, Hyundai, Infiniti, Isuzu, Jaguar, KIA, Land Rover, Lexus, Lincoln, Mazda, Mercedes Benz, MG Motor, Mitsubishi, Nissan, Porsche, Renault, SEAT, Stellantis, Subaru, Suzuki, Toyota, Volkswagen, Volvo and JAC.
Regarding inflation in Mexico, the International Monetary Fund (IMF) indicates that fuel subsidies have contributed to contain price increases in 2022.
Ventas al público en el mercado interno de vehículos ligeros (unidades)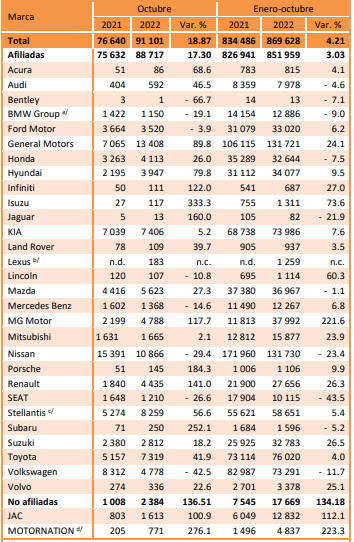 When global fuel prices rose following the Russian invasion of Ukraine, subsidies substantially contained retail fuel prices.
In June, subsidies reduced prices by as much as 30 percent.
Automotive companies
General Motors led domestic sales of light vehicles in the first 10 months of 2022, registering 565,543 units, or implying an increase of 31.7 percent year-on-year.
This was followed by Nissan, with 331,548 vehicles and a 37.3% drop, and Stellantis, with 318,087 units and a 7.8% reduction, at an annual rate.
Given that fuel represents approximately 6% of the consumption basket, the direct effects of the fuel subsidy reduced general inflation by about two percentage points, when it would have reached a maximum of almost 10%, according to IMF information.
This estimate of the impact of subsidies on inflation may also be a lower bound, given second-round effects, for example the effect of lower fuel prices on retail products for which distribution is a major production cost, or public transport costs, where many cities have flexible pricing that responds to fuel prices.
However, the fall in fuel prices since early summer has reduced the effect of subsidies on inflation, with their effect now estimated at a modest 0.2% direct contribution to inflation containment.
USMCA
The USMCA's specific rules of origin are stricter, as the thresholds for conferring origin are higher, particularly for certain sectors such as automobiles, steel and aluminum.
For example, for many automotive products the Regional Content Value was increased from 62.5% in NAFTA to 75% in the USMCA.
In addition, in order to obtain origin, automotive producers must use aluminum and steel from the region amounting to 70% of the value of purchases, and origin is only conferred if the metal is smelted and cast in the territory of one of the Parties.