English
The top 10 copper concentrate mines in Mexico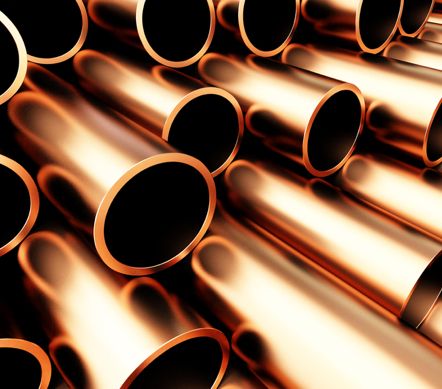 Buenavista del Cobre, La Caridad and NEMISA were among the largest copper concentrate mines in Mexico in 2019.
Information from the Mexican Mining Chamber (Camimex) indicates that Buenavista del Cobre produced 338,000 tons, followed by La Caridad (107,200 tons) and NEMISA (25,600 tons).
Both Buenavista del Cobre and La Caridad belong to Minera México, part of Grupo México.
Among the large copper concentrate mines, Cozamin, from Capstone Mining, in the state of Zacatecas, is in fourth position with a production of 16,300 tons.
Thanks to its high electrical conductivity, ductility and malleability, copper has become the most widely used material to make electrical cables and other electrical elements and electronic components.
In 2019, according to data from Inegi, Mexico produced 768,542 tons of copper, an increase of 2.3% year-on-year.
The largest copper producing state in Mexico is Sonora (83%). This value is made up of the contributions of Buenavista del Cobre and La Caridad, as well as the Piedras Verdes mining units of Invecture Group, Milpillas of Industrias Peñoles, and Maria, of Minera Frisco.
Second place was occupied by the state of Zacatecas, especially with the production of the Cozamin mine and the productions of Minera Frisco, with the expansion of the Tayahua Primary Copper project, and Industrias Peñoles in the Sabinas and Francisco I. Madero mines.
Copper concentrate mines
In third place, San Luis Potosí was positioned, with the production of Negociación Minera Santa María de La Paz and Anexas.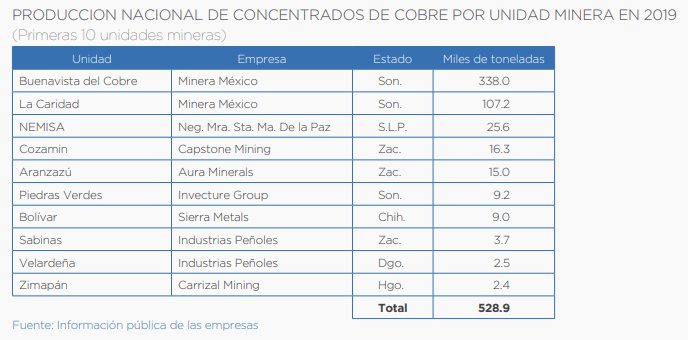 The increase in copper production was related to:
In Sonora, due to operational improvements in Buenavista del Cobre that increased its production by 5.8% due to the new ESDE 3 plant.
In Durango, Industrias Peñoles' mining unit Velardeña increased its volumes by 8.2% compared to 2018.
Other increases occurred in Chihuahua, at the Bolívar mine, owned by the Sierra Metals company, which registered an increase of 15.1%; in Oaxaca, at the El Águila mine, owned by Gold Resource, with 12.5% ​​and in the State of Mexico, in Tizapa, by Industrias Peñoles, with an increase of 6.8%, all compared to the previous year.
Some declines in production were observed at the mines of Industrias Peñoles such as Francisco I. Madero (32.2%) and Sabinas (21.9%) in Zacatecas, as well as Bismark (11.8%) in Chihuahua due to lower ore grades and recoveries.
In Hidalgo, Carrizal Mining, it went from 10,963 tons in 2018 to 2,456 tons in 2019.