English
The CPTPP: 12 major commitments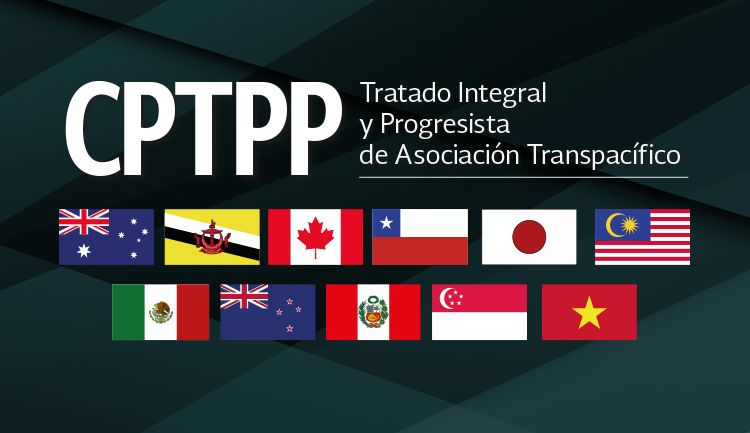 A U.S. congressional analysis highlighted 12 commitments of the Comprehensive and Progressive Agreement for TransPacific Partnership (CPTPP).
The key provisions of CPTPP include:
1.- Tariffs.
Immediate elimination of most tariffs among current members and final elimination of tariffs on approximately 99% of tariff lines.
New members' tariff commitments are subject to accession negotiations.
2.- E-commerce/digital commerce.
Requires free cross-border flow of data and prohibits localization requirements for computer facilities, with certain public policy exceptions.
Prohibits tariffs on digital products and source code sharing requirements for market entry.
It requires members to have privacy regimes at the national level.
CPTPP did not suspend any digital trade commitments.
3.- Environment.
Requires countries to enforce and not repeal their environmental laws to attract trade and investment, to implement certain multilateral environmental agreements to which they have acceded, to prohibit certain fisheries subsidies, and to combat illegal trade in wildlife.
A provision that expanded illegal wildlife trade to include determinations based on the laws of a trading partner was suspended.
4.- Public procurement.
Requires non-discriminatory treatment of domestic and foreign companies in government procurement decisions above certain thresholds.
Two suspended provisions relate to contracting entities and efforts to promote compliance with labor laws, and a mandate to reopen procurement negotiations in three years.
5.- Intellectual property rights.
Protects patents, copyrights and trademarks, and includes disciplines on trade secrets to combat cyber-theft, with various phase-in periods, especially for Vietnam.
Protections were reduced due to suspensions related to scope of patentability, patent term extensions, test data for marketing approvals, and criminal penalty requirements for certain IP infringements.
Also suspended were commitments on biological products, copyright term extensions, and legal remedies and safe harbor provisions for Internet service providers.
6.- Investment.
Removes barriers and provides protection for foreign investors in CPTPP countries, including minimum and non-discriminatory standards of treatment, although each country has exempted some sectors or practices.
It includes investor-state dispute settlement (ISDS), although countries can block investor claims against tobacco control measures.
Due to suspensions, ISDS does not apply to certain disputes, such as investment agreements between investors and a central government authority (e.g., in relation to natural resource rights or infrastructure projects).
7.- Rules of origin.
Establishes the requirements for determining whether goods originate in the territory of CPTPP members and are eligible for CPTPP benefits (e.g., automobiles require 45-55% regional value content (RVC), depending on the method of calculation, to qualify for tariff elimination).
8.- Services.
Establishes basic obligations of non-discrimination (national treatment and most-favored-nation treatment), market access and local presence on a "negative list" basis (i.e., covering all cross-border services sectors except those specifically excluded).
It includes separate obligations for financial services, with sector-specific exemptions.
9.- State-owned enterprises.
Requires countries to guide decisions to buy and sell SOEs on the basis of commercial considerations, to apply SOE regulations impartially, and to ensure that subsidies and other non-commercial support to SOEs do not harm other member countries, with exceptions, including smaller (revenue) SOEs and the provision of public services.
10.- Workers' rights.
Requires countries to adopt and not repeal laws consistent with the fundamental principles and rights of the International Labor Organization (ILO) on freedom of association and collective bargaining, and the elimination of forced labor, child labor, and employment discrimination in matters related to trade and investment.
Proposed U.S. bilateral labor plans with Brunei, Malaysia and Vietnam, which included additional commitments (e.g., allowing independent trade unions in Vietnam), are excluded from CPTPP.
11.- Dispute settlement in CPTPP.
Includes an SD mechanism to enforce commitments, although some exemptions apply.
12.- Accession to CPTPP.
Requires unanimous consent of members to initiate market access negotiations (to date, the United Kingdom is the only applicant to have reached this step).
If negotiations move forward, the parties must determine whether an applicant is qualified to join based on market access offers (e.g., tariffs) and the ability to adhere to CPTPP rules.
According to the same analysis, this approval for China may be difficult given global concerns about its trade practices and industrial policies.