English
The 32 automotive companies with sales to the public of light vehicles in Mexico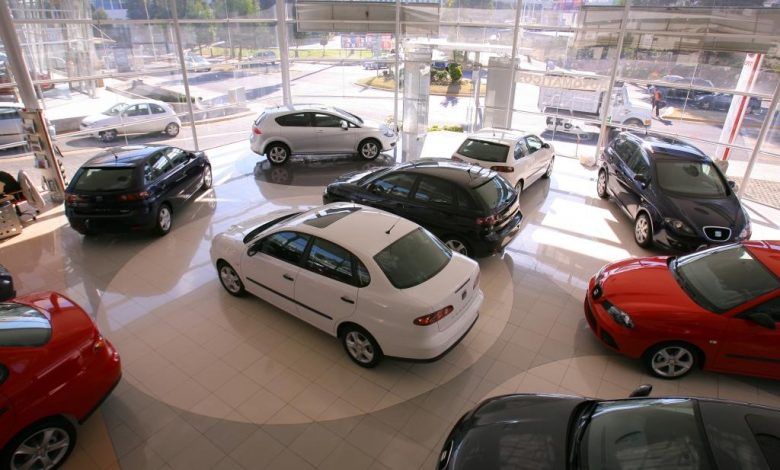 A total of 32 automotive companies sold 519,534 units of light vehicles to the public in Mexico from January to May 2023, an increase of 21.4% year-on-year, Inegi reported.
The companies are: Acura, Audi, Bentley, BMW Group, Ford Motor, General Motors, Honda, Hyundai, Infiniti, Isuzu, Jaguar, KIA, Land Rover, Lexus, Lincoln, Mazda, Mercedes Benz, MG Motor, Mitsubishi, Nissan, Porsche, Renault, SEAT, Stellantis, Subaru, Suzuki, Toyota, Volkswagen, Volvo, Chirey Motor, JAC and Motornation.
In all of 2022, retail sales of light vehicles increased at an annual rate of 7% to 1 million 086,058 units.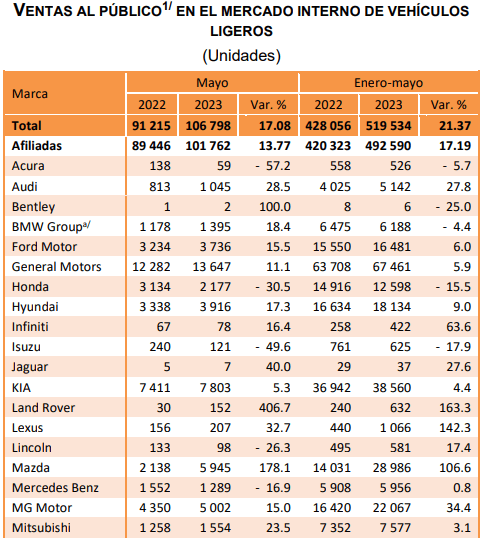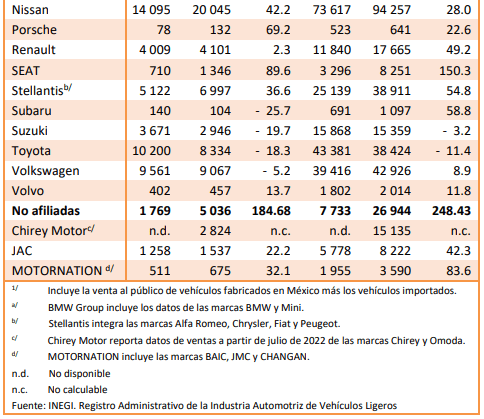 Although in February 2022 IHS, an independent automotive industry analysis firm, initially predicted that automotive industry production volumes would increase by almost 19.1% in 2022 (16.6% in North America and 21.7% in Western and Central Europe), actual industry production volumes increased by only 7.2% (9.7% in North America and 4.7% in Western and Central Europe).
This was mainly due to the continuing shortage of semiconductor chips, weak economies in major markets and the conflict in Ukraine.
According to IHS forecasts, production volumes in North America and Western and Central Europe will increase 6.2% in 2023 (5.4% in North America and 7.1% in Western and Central Europe).
Although semiconductor manufacturers have announced plans to expand capacity in the coming years, it is unclear when the shortage of semiconductor chips in the automotive industry will abate.
Automotive companies
The Mexico-U.S.-Canada Agreement (USMCA) and its predecessor, the North American Free Trade Agreement (NAFTA), have played an important role in the success of the automotive industry in the region.
The duty-free treatment granted to originating vehicles and parts has helped integrate North American production, and the agreements' rules of origin have incentivized increased investment in North American automotive production.
As a result, the industry reports that total automotive trade (imports plus exports of vehicles and parts) is the largest component of total North American trade.
In Mexico, light vehicle sales reached 1 million 317,931 units in 2019, but plummeted to 950,063 units in 2020.
They then partially recovered: in 2021 (1 million 014,735 units) and in 2022 (1 million 086,051 units).