English
The 26 automotive plants in Mexico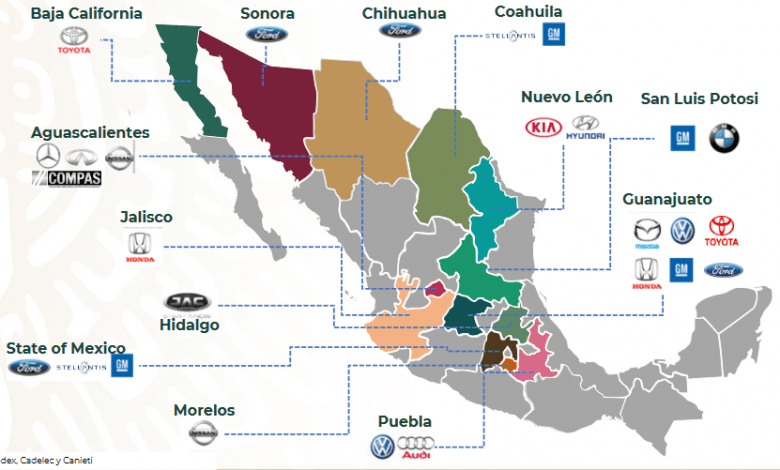 Mexico has 26 automobile plants, including those of General Motors, Ford, Nissan, Stellantis, Volkswagen and Hyundai.
The Mexican Automotive Industry Association (AMIA) estimates that Mexico will go from being the seventh largest automaker in the world in 2022 to become the fifth largest in 2025.
The Mexican automotive industry, with more than 1 million jobs and 300 research and development centers, produces more than 50 brands and more than 500 models.
About 91% of Mexico's vehicle production is for export, according to the International Organization of Motor Vehicle Manufacturers.
In addition, in recent announcements, electric vehicle manufacturers Tesla and BMW (with an initial investment of approximately €800 million) announced significant investments to build new factories in Mexico.
Other factories in Mexico belong to Toyota, BMW, Mazda, JAC and Mercedes Benz.
Automobile plants
The USMCA's specific rules of origin are stricter, as the thresholds for conferring origin are higher, particularly in the case of certain sectors such as automobiles, steel and aluminum.
For example, for many automotive products the Regional Content Value was increased from 62.5% in NAFTA to 75% in the USMCA.
In addition, in order to obtain origin, automotive producers must use aluminum and steel from the region that account for 70% of the value of purchases, and origin is only conferred if the metal is smelted and cast in the territory of one of the Parties.
The T-MEC also establishes a labor value content criterion for conferring origin in the automotive sector.
By July 2023, the domestic production sector must comply with the USMCA rules of origin. Those companies that requested an Alternative Transition Regime will apply what was agreed in this regime according to the provisions approved by the three countries.
The globalized economy includes Mexico's participation in the production of minerals as an important player, highlighting the production of metallic and non-metallic minerals.
The importance of being a producer of minerals makes Mexico a supplier of inputs for different industries: automotive, electrical, electronics, electric power generation and storage, and electro mobility.