English
The 15 largest gold mines in Mexico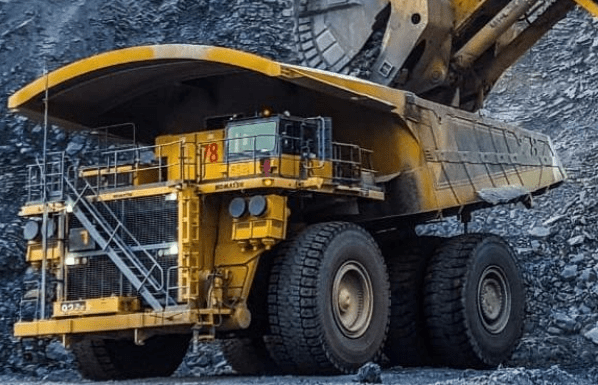 The companies Newmont, Torex Gold and Fresnillo plc operate the largest gold mines in Mexico, considering their 2021 production, informed the Mining Chamber of Mexico (Camimex).
Although gold prices closed 2021 at lower levels than those observed at the beginning of the year, the average quotation of 1,799 dollars per ounce was 2% higher than that corresponding to 2020, despite the fact that supply exceeded manufacturing demand, due to the fact that surpluses were absorbed with problems by investors.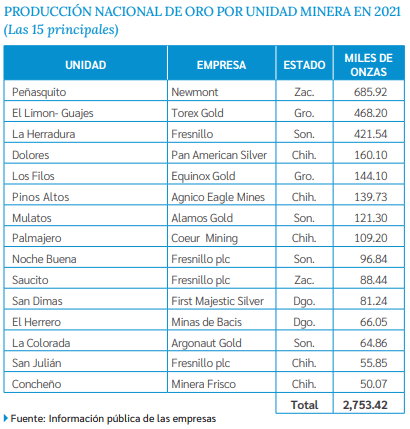 Mexico is the world's leading producer of silver; the second of fluorspar; the third of sodium sulfate and wollastonite; the fifth of celestite; the fifth of lead, molybdenum, barite, diatomite and magnesium sulfate; the sixth of zinc; and the eighth of gold, cadmium, salt, feldspar and gypsum.
Gold mines
According to Camimex, the relevant events that caused gold production during 2021 to rise in Mexico were:
In Zacatecas, Orla Mining reported its first gold production in mid-December, pouring three bars with a total weight of 1,278 ounces containing approximately 770 ounces of gold and 510 ounces of silver; Newmont's "Peñasquito" increased its production by 30%; while Grupo Mexico's "San Martin" and Fresnillo plc's "Saucito" raised their volumes by 25 and 4.2%, respectively, relative to 2020.
Meanwhile, in Guerrero, Equinox Gold began mining the new "Guadalupe" open pit deposit, as well as the "Bermejal" deposit at the "Los Filos" mine, increasing its production 2.5 times over that recorded in 2020.
Torex Gold's "El Limón-Guajes" mine increased its production by almost 9% in the period, and Industrias Peñoles' "Capela" produced 19,441 ounces of this metal.
In Sonora, Minera Alamos is in the process of accelerating operations at its first gold mine in Mexico, "Santana", and in October achieved its first production. Meanwhile, First Majestic Silver's "Santa Elena" increased its production by 13,846 ounces compared to the previous year and Argonaut Gold's "La Colorada" increased its production by 46.3% compared to 2020.
Production
Other mines that added volume to national production were "Noche Buena", of Fresnillo plc, and "La Caridad", of Grupo Mexico, with 10 and 19.3%, respectively.
For its part, Golden Minerals put into operation its open pit mine, "Rodeo", located in Durango; while "Guanaceví", of Endeavour Silver, produced 13,317 ounces in 2021, and First Majestic Silver, with its "San Dimás" mine, increased its production 13.5 percent.
Other mines also increased their volumes, such as: "El Herrero" from Minas de Bacis; "Avino", from Avino Silver & Gold; "Topia", from Great Panther and "El Castillo", from Argonaut Gold and "Velardeña" from Industrias Peñoles.
In Chihuahua, Panamerican Silver registered record gold production at the "Dolores" mine, 63.4%, while Sierra Metals' "Bolivar" more than doubled its volumes compared to 2020.