English
The 10 largest zinc mines in Mexico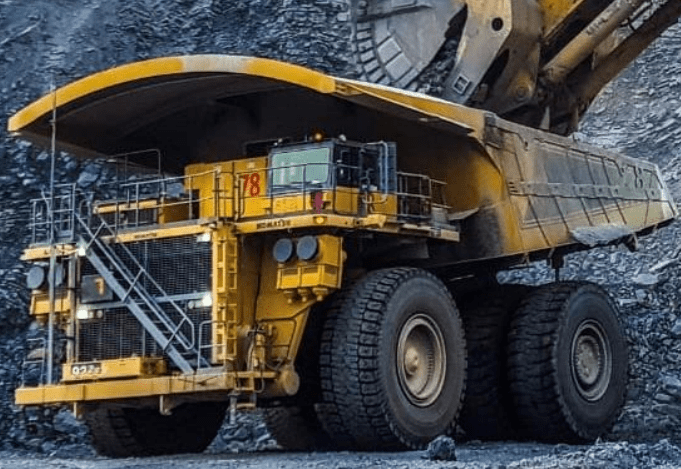 Peñasquito, from Newmont, and Velardeña, from Industrias Peñoles, ranked as the largest zinc mines in Mexico in 2019, according to data from the Mexican Mining Chamber (Camimex).
By company, Industrias Peñoles maintained its position as the largest producer in 2019. The second in importance is Fresnillo plc due to its increase in its La Ciénega mine and in third place is Newmont, with Peñasquito being its only mine in Mexico, with a contribution of 12.5% ​​in 2019. They are followed by Grupo México and Minera Frisco.
Other major zinc mines in Mexico were Francisco I. Madero and Tizapa, both owned by Industrias Peñoles.
Zinc mines
The increase in production occurred mainly in:
Zacatecas
The San Martín mine, owned by Grupo México, resumed operations in April 2019. At full capacity it could contribute 20,000 tons per year to the national zinc production.
Meanwhile, Cozamin, from Capstone Gold and La Colorada, from Pan American Silver, increased their productions by 23.9% and 17.9% respectively.
Chihuahua
The Sunshine Silver (70%) / Dowa Mining (30%) Los Gatos property started its activities in 2019. Operating at full capacity it will produce 30,000 tons per year.
Bismark from Industrias Peñoles contributed almost 25,000 tons to the national production.
The Plomosas mine, owned by Consolidated Zinc, has completed its first year of commercial production.
Oaxcaca
Gold Resource's El Águila mine increased its production by 19.6% compared to the previous year.
Durango: La Ciénega, of Fresnillo plc, had a notable increase in its production, adding more than half of what was produced in 2018.
The Velardeña mine increased its production by 5.3% compared to 2018.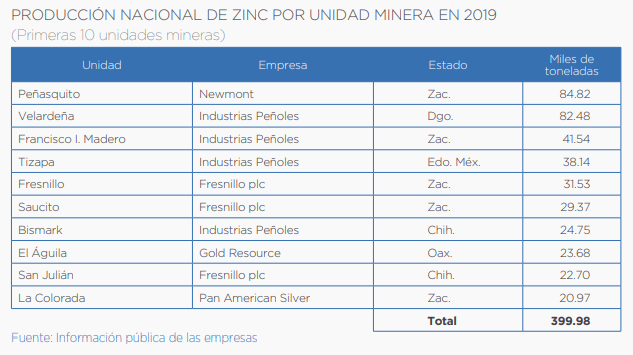 Some other zinc mines presented changes in their volumes reported in the year, such is the case of La Parrilla, from First Majestic, which contracted (35.2%), while Topia, from Great Panther, increased its production (9.1%) , both in Durango; Cosalá, from Americas Gold & Silver, in Sinaloa (5%), and Sabinas, from Industrias Peñoles in Zacatecas (17.9 percent).