English
Roberto Azevêdo will be head of corporate affairs at PepsiCo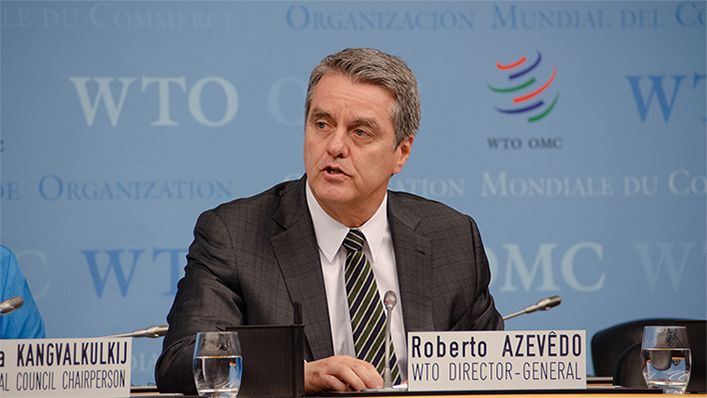 Roberto Azevêdo will be PepsiCo Inc's head of corporate affairs once he leaves the post of director general of the World Trade Organization (WTO), the multinational company announced on Wednesday.
Surprisingly, on May 14, Roberto Azevêdo informed members at an informal meeting of Heads of Delegation that he intended to resign on August 31, 2020, a year before his term expired.
«We are delighted to welcome Roberto, who brings valuable political skills and technical knowledge of the complex social, political and regulatory environments that affect multinational corporations such as PepsiCo,» said the president of this company, Ramón Laguarta.
The WTO was unable to elect an interim director general at the end of July due to disagreements among members, who have yet to agree by November to replace the outgoing director general, Roberto Azevêdo.
Typically, the interim chief was one of four deputy CEOs, who are from China, Germany, Nigeria and the United States. However, the WTO said all four will remain in their current positions.
To replace Roberto Azevêdo, competing, the Mexican Jesús Seade, the British Liam Fox, the Saudi Mohammad Maziad Al-Tuwaijri, the Kenyan Amina C. Mohamed, the Nigerian Ngozi Okonjo-Iweala, the Egyptian Abdel-Hamid Mamdouh, the Moldovan Tudor Ulianovschi and South Korean Yoo Myung-hee
Currently, one of the three overriding pillars on which the WTO is built is not ultimately functioning within the dispute settlement system: the Appellate Body. The other two are, on the one hand, the administration of the agreements derived from the Uruguay Round, and on the other, the negotiation of new disciplines and reduction of tariffs and other barriers to trade.
Roberto Azevêdo
«(The) geopolitical views of Azevêdo will be invaluable for our discussions and decision making in a world in constant change,» added Laguarta.
The WTO was established in 1995. It is headquartered in Geneva, Switzerland, and is the only body that resolves international trade disputes on a global level. It is not part of the United Nations system, nor is it part of the Bretton Woods bodies, such as the World Bank or the International Monetary Fund.
PepsiCo
Broadly speaking, it is a leading global food and beverage company with a complementary portfolio of brands, including Frito-Lay (Sabritas), Gatorade, Pepsi-Cola, Quaker and Tropicana.
Independently or in conjunction with third parties, Pepsico manufactures, markets, distributes and sells a number of snack brands in Latin America such as Cheetos, Doritos, Emperador, Lay's, Marias Gamesa, Rosquinhas Mabel, Ruffles, Sabritas, Saladitas and Tostitos, as well as many Quaker brand cereals and snacks.
It also manufactures, markets, distributes and sells beverage concentrates in Latin America, including 7UP, Diet Pepsi, Gatorade, H2oh !, Manzanita Sol, Mirinda, Pepsi, Pepsi Black and Toddy, as well as ready-to-drink teas through a company international joint venture with Unilever (under the Lipton brand).