English
RCEP is a victory for free trade: China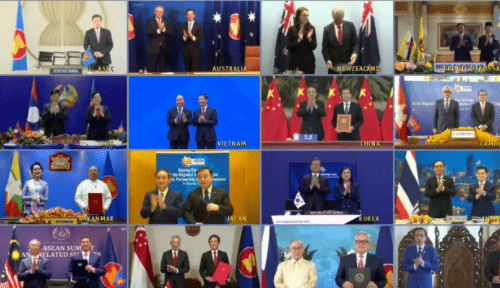 The signing of the Regional Comprehensive Economic Association (RCEP) is a victory for free trade and multilateralism, Chinese Prime Minister Li Keqiang celebrated on Sunday.
The RCEP is made up of China, the Philippines, Malaysia, Indonesia, Singapore, Thailand, Brunei, Vietnam, Laos, Burma, Cambodia, Japan, South Korea, Australia, India and New Zealand.
"As the free trade zone with the largest population, the most diverse membership structure, and the greatest development potential in the world, this is not only a historic achievement of East Asian regional cooperation, but also a victory for multilateralism and free trade," Li said, according to the Chinese Ministry of Commerce.
RCEP is a free trade agreement in the Asia-Pacific region between the 10 ASEAN states (Brunei, Cambodia, Indonesia, Laos, Malaysia, Myanmar, the Philippines, Singapore, Thailand and Vietnam) and five of their partners with Free Trade Agreements (Australia, China, Japan, New Zealand and South Korea).
The 15 member countries represent around 30% of the world's population and 30% of the world's GDP, making it the largest trading bloc.
Free trade
The RCEP was signed at the ASEAN Virtual Summit hosted by Vietnam on November 15, 2020 and is expected to enter into force within two years, after it has been ratified by member countries.
"After 8 years of negotiations, the RCEP was signed in the current context, allowing people to see the light and hope in the gloom, showing that multilateralism and free trade are the right way, and still represent the right way. correct direction of the world economy and humanity," Li said.
China's Ministry of Finance said RCEP has a 10-year tariff phase-out program.
"The signing of the RCEP also means that all parties support an open, fair and win-win global trading system, support multilateralism, abandon protectionism and unilateralism, and commit to persevere in unity and cooperation to confront the challenges," Li said.