English
Physical investment of the federal government of Mexico would rise 17.7%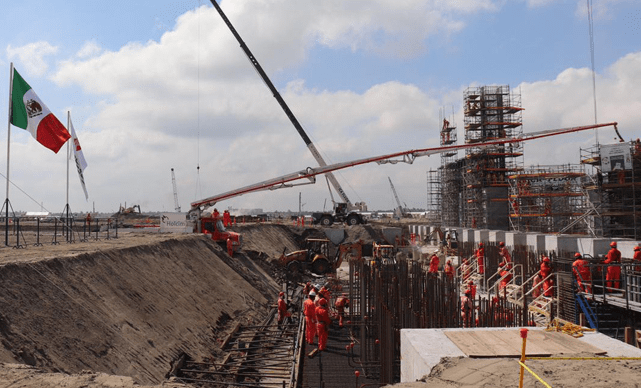 The physical investment of the federal government of Mexico would rise at an interannual rate of 17.7% in 2022, to 863,200 million dollars, if the Expenditure Budget project proposed by the SHCP to Congress is approved.
In general, the budgetary physical investment will be allocated to the continuation of works that complement the PIDIREGAS projects, and will focus on the construction of electrical infrastructure and maintenance and acquisition of basic electrical equipment in generation, transmission and distribution activities.
In terms of the economic classification, for fiscal year 2022 current spending represents 58.9% of programmable spending; pensions and retirements 22.3%; and investment spending 18.8 percent.
Likewise, according to the SHCP, an increase in investment spending of 14.3% in real terms with respect to that approved in 2021 stands out, consistent with the efforts of the Government of Mexico to strengthen the development of public infrastructure, to facilitate the increase in capacity and quality. in the provision of public goods and services.
Physical investment
In support of the reactivation of economic activity, the SHCP proposes a real growth of 11.4% compared to 2021 in spending on the economic development function, which will reach 1,392.3 billion pesos.
At the same time, importantly, increases in physical and total investment are proposed for 17.7 and 14.3% in real terms, respectively, in relation to the budget approved in 2021, in order to ensure adequate progress and the timely conclusion of the projects of strategic infrastructure, such as the Mayan Train and the Isthmus of Tehuantepec Train, with real annual variations of 68.0 and 174.8%, which together will enhance the development of the south-southeast region and improve the logistics infrastructure.
Profile
Mexico is the third most populous country in the Americas, with a population of 126 million, as reported by the National Institute of Statistics and Geography in its 2020 Population and Housing Census.
According to the results of the census, 78.6% of the population of Mexico lives in urban areas and 21.4% lives in rural areas. The three largest metropolitan areas in Mexico are the Valley of Mexico, Monterrey, and Guadalajara, with populations of 21.8 million, 5.3 million, and 5.3 million, respectively.
Mexico is generally classified as an upper-middle-income developing country.