English
Pemex's 15 main infrastructures in Mexico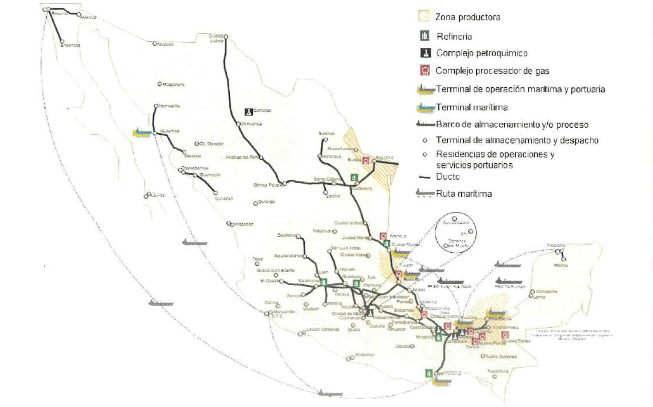 Among Pemex's main infrastructures in Mexico are producing wells in operation, offshore platforms, production assignments, drilling and workover rigs, and refineries.
In general, operations related to the oil and gas industry are carried out in very complex and large-scale industrial facilities.
In Mexico, Pemex is the energy company with the largest infrastructure distributed throughout the country, associated with the crude oil and natural gas production chains.
Due to the complexity of its operation, this infrastructure is operated by personnel with a high degree of specialization and vast accumulated experience.
Pemex participates in all the activities of the hydrocarbon sector production chain.
Infrastructures
In 2016, Mexico notified the World Trade Organization (WTO) that Pemex had a monopoly on the trade of crude oil and derivative products, natural gas and other products.
However, the same notification indicates that the state monopoly on trade was eliminated for LPG and for gasoline and diesel.
In 2022, Pemex and a quarantine of private operators, with the permission of the Ministry of Energy (Sener), import and export hydrocarbons and petroleum products.
However, Pemex is still the most important operator. Until 2017 the price of some of the oil products was controlled.
Other Pemex infrastructure consists of gas processing complexes, liquefied gas distribution terminals, storage and dispatch terminals (TAD) oil products, marine terminals, operations and port services residences, tankers, tanker cars, tank cars and pipelines in Pemex Logística.
During the last five years, the requirements to operate in the hydrocarbons sector have not changed substantially in Mexico.
The State has the power to award assignments, which grant Pemex the exclusive right to explore and exploit, and contracts for exploration and exploitation. Contracts are awarded through bids and may be of four types.
Pemex and private companies may participate in the bids, individually or in association.
From 2013 to date (May 2022), Mexico has organized three bidding rounds. The third round, which started in 2017, and was cancelled in 2018.