English
Mexico's exports fall 12.8% in June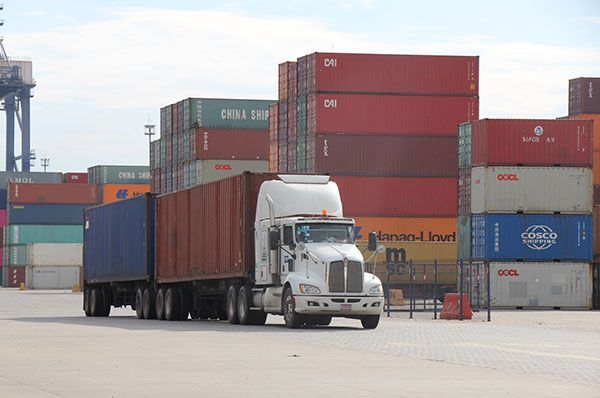 Mexico's exports (merchandise) registered a year-on-year drop of 12.8% in June, to $ 33,076.5 million, the Inegi reported.
This rate originated from reductions of 11.6% in non-oil exports and 35.6% in oil exports.
Within non-oil exports, those directed to the United States fell 7.9% at an annual rate and those channeled to the rest of the world fell by 28 percent.
Mexico's exports of manufactured products in June 2020 reached $ 29,527 million, which represented a decrease of 13.5% at the annual rate.
The most important annual falls were observed in exports of automotive products (-31%), steel (-12.4%), plastic and rubber products (-11.5%), professional and scientific equipment (6.1%) and electrical and electronic equipment and apparatus (-3.8 percent).
In turn, the annual decline in exports of automotive products was derived from decreases of (-) 25.5% in sales channeled to the United States and (-) 56.8% in sales to other markets.
Mexico's exports
The value of agricultural and fishery exports in the sixth month of the current year was 1,738 million dollars, an amount that implied an annual variation of 31.5 percent.
The most significant annual growths were registered in the exports of tomatoes (78.6%), cattle (53.8%), peppers (48%), avocados (44.9%) and fresh vegetables (38.7%).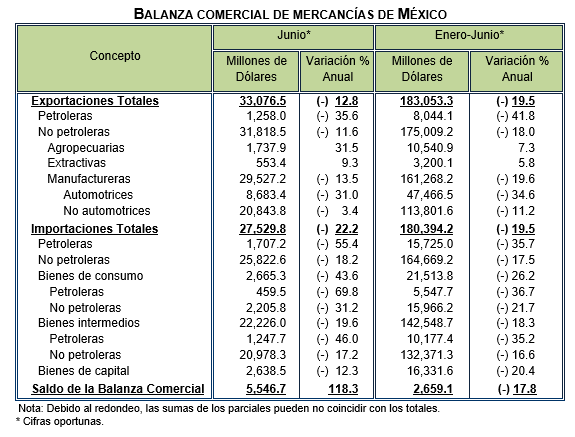 In contrast, the most significant annual reductions were in exports of chickpea (-29.3%) and fish, crustaceans and molluscs (-18.2%).
As for extractive exports, these were located at 553 million dollars with an annual rate of 9.3 percent.
In the January-June 2020 period, the value of total Mexican exports was $ 183,053 million, which meant an annual variation of (-) 19.5 percent. This rate was a reflection of declines of (-) 18% in non-oil exports and (-) 41.8% in oil exports.