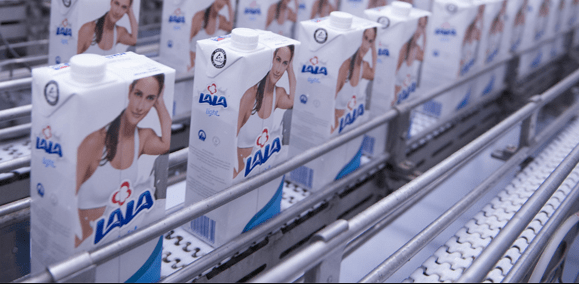 En México, Grupo Lala cuenta con instalaciones para la fabricación de envase de plástico soplado en sus propias plantas y con una coinversión con Elopak a.s. para fabricar envases de cartón tipo Pure-pak.
La Leche Ultrapasteurizada también se envasa en botellas de plástico multicapas aséptico.
Grupo Lala procesa, vende y distribuye leche, productos lácteos de valor agregado y embutidos, bajo marcas reconocidas como LALA y Nutri Leche.
En México, las principales materias primas que Envases Elopak, subsidiaria de Grupo Lala, utiliza para la producción de envases Pure-Pak, son el cartón y el polietileno.
El cartón se importa de varios proveedores en los Estados Unidos y Europa; dentro de los principales proveedores se encuentran Evergreen Packaging Inc., Weyerhauser Company y Stora Enso Oyj.
Westlake Polymers LLC y The Dow Chemical Company son sus proveedores de polietileno, mientras que E. I. du Pont de Nemours and Company (DuPont) provee bolsas para las presentaciones de Leche Pasteurizada.
Materias primas para Lala
Además de la leche, otras materias primas utilizadas para elaborar sus productos lácteos son: jarabe de cocoa, saborizantes y concentrados, jarabe de maíz de alta fructuosa, bases de fruta, cultivos y azúcar, que son comprados a diversos proveedores.
Generalmente Lala busca tener un proveedor principal para cada producto, con el fin de asegurar consistencia en la calidad, tiempos de entrega oportunos y disponibilidad de suministro; sin embargo, tiene la flexibilidad de cambiar de proveedores según la necesidad.
Asimismo, cuenta con otras fuentes alternativas de abastecimiento para el suministro de cada materia prima para evitar escasez o interrupciones de suministro. Las compras se hacen generalmente sobre pedido, según los requerimientos pronosticados en el corto plazo.
Utiliza diversos materiales para el envase de sus productos, entre los que destacan el envase de cartón (en tecnología Tetrapak y Pure-Pak), así como envases de polietileno de alta densidad.