English
Industrial production in Mexico falls 17.5%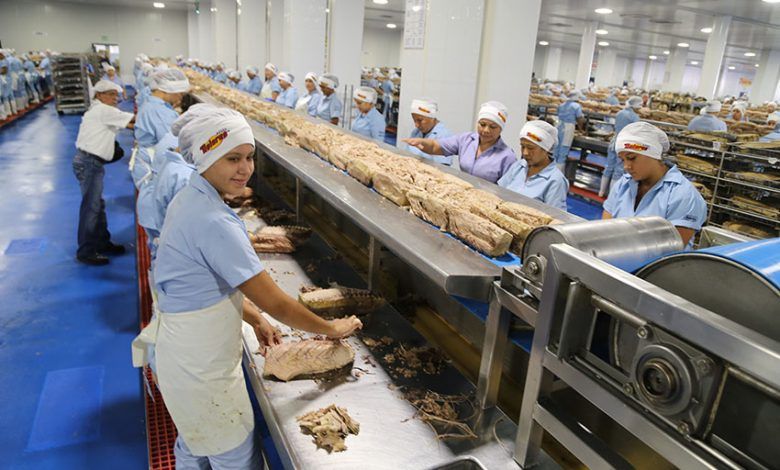 Mexico's industrial production fell 17.5% during June, in real terms and at an annual rate.
By sectors of economic activity, construction decreased 26.1%, manufacturing industries decreased 18.3%, the generation, transmission and distribution of electric power, water and gas supply through pipelines to the final consumer fell 13.3% and mining fell 5.3 percent .
At the same time, Inegi reports that the Monthly Industrial Activity Indicator (IMAI) registered a real increase of 17.9% in the sixth month of this year compared to the previous month, based on seasonally adjusted figures.
By components, manufacturing industries increased 26.7%, construction increased 17.5%, mining increased 1.6% and the generation, transmission and distribution of electricity, water supply and gas through pipelines to the final consumer advanced 0.7% during June of 2020 compared to the previous month.
Industrial production
The vast majority of economic series are affected by seasonal and calendar factors. Adjusting the figures for these factors allows obtaining the seasonally adjusted figures, whose analysis helps to make a better diagnosis of the evolution of the variables.
For the global result of industrial production, physical volume indices are calculated for 345 classes of economic activity from SCIAN2013, and by type of industry, formal, informal, artisanal and goods for processing. These classes make up the 29 published subsectors of economic activity.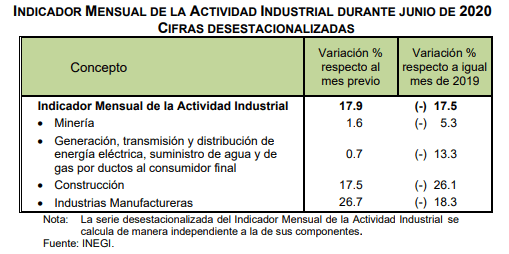 The main sources of information for the industrial production indicator are the Surveys in Establishments and Households prepared by INEGI: the Monthly Survey of the Manufacturing Industry (EMIM); the National Survey of Construction Companies (ENEC) and the National Survey of Occupation and Employment (ENOE); the National Consumer Price Indices (INPC) and Producer (INPP); the Administrative Records and the Economic and Social Statistics compiled by the Institute: Mining and metallurgical Industry, Program of the manufacturing industry, maquiladora and export services (IMMEX), Administrative Registry of the automotive industry of light vehicles; data provided by chambers and associations of producers, organizations and public and private companies, among other sources of information.