English
Global Merchandise Trade: WTO Barometer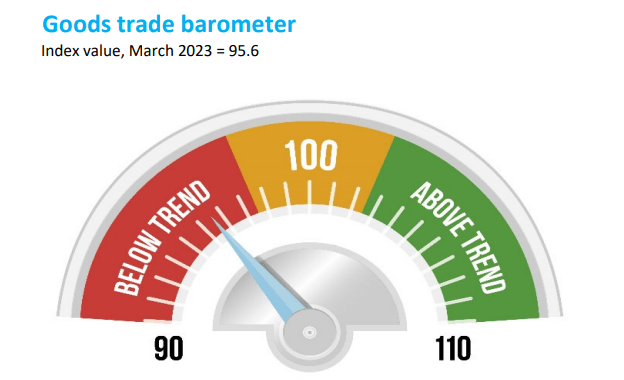 Global merchandise trade is not yet showing a full recovery, considering the current reading of 95.6 on the World Trade Organization (WTO) barometer index.
This barometer is a composite indicator of world trade that provides real-time information on the trajectory of merchandise trade relative to recent trends.
While the current reading of 95.6 for the barometer index is higher than the previous four months, it is also lower than the trade volume index and well below the benchmark value of 100.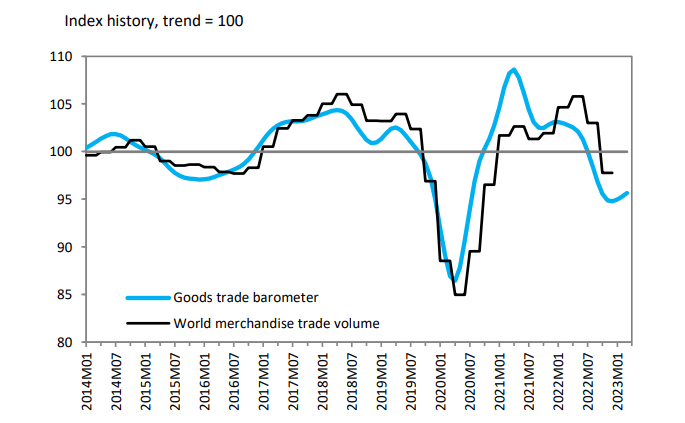 This suggests that merchandise trade remained depressed in the first quarter of 2023, but could rebound in the second quarter.
World merchandise trade volume was down 0.8 percent year-on-year in Q4 2022, following a quarter-on-quarter decline of 2.4 percent.
Global merchandise trade
The drop was due to several related factors, including the ongoing war in Ukraine, stubbornly high inflation in advanced economies, and the tightening of monetary policy globally.
In particular, the relaxation of pandemic controls in China appears to have boosted port traffic in the country, but this was offset by falling throughput in European ports.
Preliminary data suggest that trade remained depressed in the first quarter of 2023, but rising export orders point to a turnaround in the second quarter.
According to the WTO, these results are consistent with the WTO's most recent trade forecast, which pointed to merchandise trade growth of 1.7% in 2023.
The barometer's component indexes are mixed, with the automotive products index (110.8) rising firmly above trend thanks to strong sales in the U.S. and Europe.
The highly predictive export orders index (102.7) has also rebounded following a drop in the wake of the outbreak of war in Ukraine.
Meanwhile, the indexes representing container shipping (89.4), air freight (93.5) and electronic components trade (85.2) continue to show signs of weakness, while the commodity trade index (99.0) remained exactly on trend.
Finally, the mixed signals from the component indexes suggest that the road to trade recovery may be bumpy.