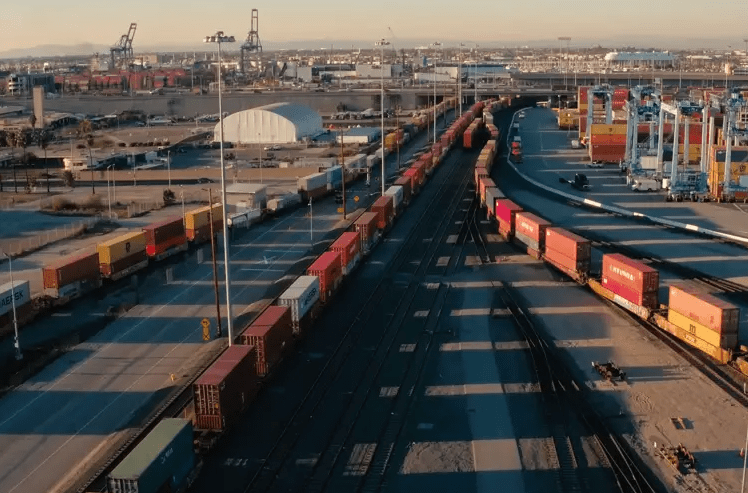 Las exportaciones de Estados Unidos a México registraron un crecimiento interanual de 33.3% de enero a septiembre de 2021, a 204,200 millones de dólares, informó este jueves el Departamento de Comercio.
México se colocó como el primer socio comercial de Estados Unidos, siendo su segundo mercado de exportación, después de Canadá, y su segundo abastecedor de productos, superado por China.
Entre las exportaciones de Estados Unidos a su vecino del sur destacan los aceites de petróleo (excepto el crudo), autopartes, circuitos integrados, gas, computadoras, motores de pistón y partes y accesorios de máquinas.
Exportaciones de Estados Unidos
El Fondo Monetario Internacional (FMI) proyecta que la economía estadounidense crecerá 6% en 2021 y 5.2% en 2022, tras haberse contraído 3.4% en 2020.
Top Trading Partners of USA – September 2021
Data are goods only, on a Census Basis, in billions of dollars, unrevised. Year-to-Date Total Trade

Para esas estimaciones, entre otros aspectos, considera proyecciones fiscales que toman en cuenta la línea de base de la Oficina de Presupuesto del Congreso de julio de 2021, ajustada según la política del personal técnico del FMI y los supuestos macroeconómicos.
Las proyecciones incorporan los efectos del propuesto Plan de Empleo Estadounidense; el Plan de Familias Estadounidenses; el Plan Bipartidista de Infraestructura; el Plan de Rescate Americano legislado; la Ley de Apropiaciones Suplementarias de Preparación y Respuesta al Coronavirus; la Ley de Respuesta al Coronavirus de Families First; la Ley de Ayuda, Alivio y Seguridad Económica por el Coronavirus; y el Programa de Protección de Cheques de Pago y la Ley de Mejora de la Atención Médica.
En promedio, las exportaciones de Estados Unidos a México crecieron 3% en forma anual de 2016 a 2020.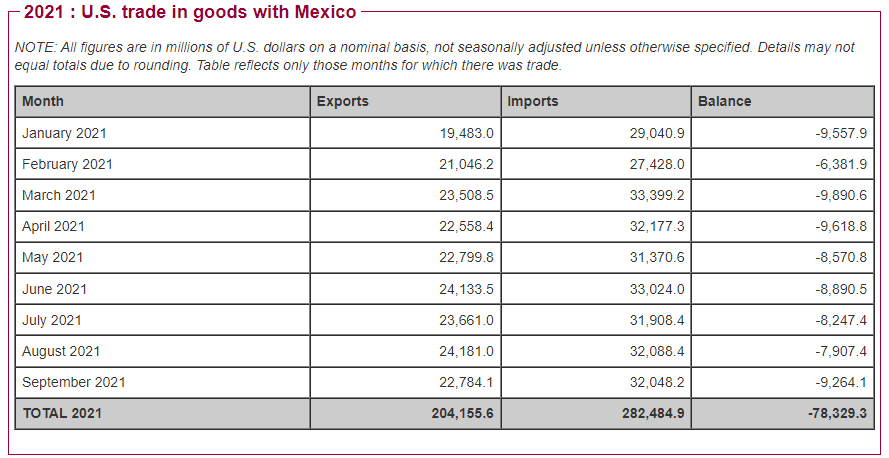 A la inversa, las ventas externas de México a Estados Unidos fueron de 282,485 millones de dólares de enero a septiembre de 2021, un aumento de 21.4% a tasa anual.
Más que nada, México exporta al mercado estadounidense autos, computadoras, vehículos para el transporte de mercancías, monitores, proyectores, petróleo crudo y teléfonos.
Las exportaciones estadounidenses al mercado mexicano han registrado una caída de 1% anual en promedio de 2016 a 2020.
Las compras foráneas totales de Estados Unidos fueron de 2 billones 064,000 millones de dólares en los nueve primeros meses de 2021, un alza de 21.5% interanual.