English
Drewry Container Index grows 3.7% YoY in July
The Drewry Container Port Performance Index posted 3.7% YoY growth in July.
Overall, the Drewry Container Port Throughput Rates are a series of volume growth/decline rates based on monthly throughput data for a sample of more than 235 ports worldwide, representing more than 75% of global volumes.
The base point of the indices is January 2012 = 100.
Following a 2.3% monthly decline in June 2021, Drewry's Global Port Throughput Index has stabilized at 138.3 points in July 2021.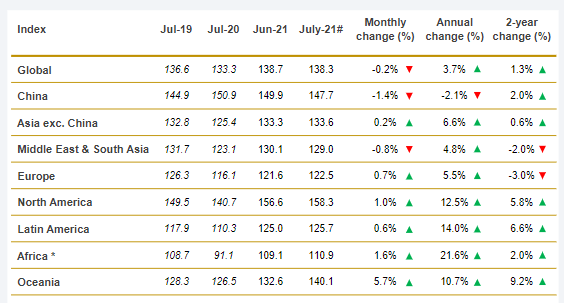 The performance in the global sample increased 3.7% compared to July 2020, but only 1.3% compared to July 2019, the level immediately before the Covid-19 pandemic.
In particular, China's largest region was the worst performer, with a monthly decline of two points (-1.4%) and an annual decline of three points (-2.1%) in July 2021, as a result of the ongoing supply chain disruption and slowdown in the Chinese economy.
However, at 147.7 points, the index was 2% above the 144.9 points recorded in July 2019.
Container
On the other hand, the recovery in the regions of Europe, the Middle East and South Asia continues to lag, and the July 2021 indices remain 3 and 2% lower, in the same order, than the pre-pandemic levels of July 2019.
In contrast, the North and Latin American regions continue to perform well, with double-digit annual growth of 12.5 and 14%, respectively, and both regional indices are more than 5% above July 2019 levels.
To access the port traffic data behind these port performance indexes, stakeholders can subscribe to Drewry's Ports and Terminals Insight.
Published quarterly, this information provides a comprehensive analysis of the main trends and issues affecting the ports and terminals sector.
Analyze data, issues and trends to answer the "cause" and "effect" questions that matter most to key industry stakeholders.