Canada's automotive exports will slow their growth in the second half of 2023 and into 2024, Bank of Canada projected.
Overall, the bank expects export growth to remain strong through the remainder of 2022, driven by high commodity prices and a pickup in international travel.
Further out on the projection horizon to 2024, export growth slows as external demand declines.
In their estimate, non-energy exports should grow solidly as global supply disruptions dissipate.
Elevated commodity prices and easing supply disruptions support the recovery in exports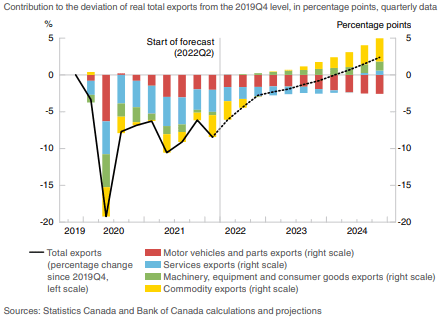 However, motor vehicle exports will slow their growth in the second half of 2023 and in 2024, when some manufacturing facilities temporarily close to retool for electric vehicle production.
Services exports and imports strengthen and reach pre-pandemic levels in 2024, while international travel continues to recover.
Automotive exports
In addition, the bank expects energy exports to grow strongly due to high prices and increased transportation capacity.
Planned expansions in pipeline capacity-including the Trans Mountain expansion project-and crude-by-rail volumes will support growth later in the projection horizon.
The bank expects imports to remain solid, supported by strong business investment, companies' restocking of inventories, and companies' desire to hold more inventory to protect against future supply disruptions.
Regarding the domestic economy, consumption grows at a modest pace over the projection horizon.
Bank of Canada projections indicate that spending on travel and other hard-to-reach services increases as consumers become less concerned about physical distance. This would help to rebalance consumption of goods and services.
Inflation
Similarly, the decline in some of the savings accumulated during the pandemic also supports household spending.
For example, motor vehicle purchases are expected to rebound as supply shortages are resolved and pent-up demand is met.
However, consumption growth is expected to slow from its current strong pace.
High inflation means that households will spend more of their disposable income on necessities such as food and gasoline, leaving them with less money to spend on other items.
In addition, rising interest rates mean that some households will postpone major purchases, pay down debt or save more6 .
Also, some households – particularly those who took out a sizable mortgage when rates were lower – will face much higher payments when they renew their mortgages.
The slowdown in real estate activity will also weigh on the consumption of goods such as furniture and appliances.