English
ASEAN: FDI in the digital economy and Industry 4.0
Investment in the digital economy and Industry 4.0-related activities continued to receive strong attention from investors in the Association of Southeast Asian Nations (ASEAN) region during 2021.
Major investors in the regions include: Chindata Group Holding, Alibaba Cloud Computing, Nippon Telegraph & Telephone, PT Smartfren Telecom, Group 42 Holding, Pure Data Centres Group, Ara Investment, Singapore Telecommunications, Advanced Info Service and Gulf Energy Development.
An ASEAN report indicates that Foreign Direct Investment (FDI) in Industry 4.0-related activities in the region is increasing and is expected to continue to grow over the next decade.
ASEAN: Investment projects in digital infrastructure, 2020-2022 (Selected cases)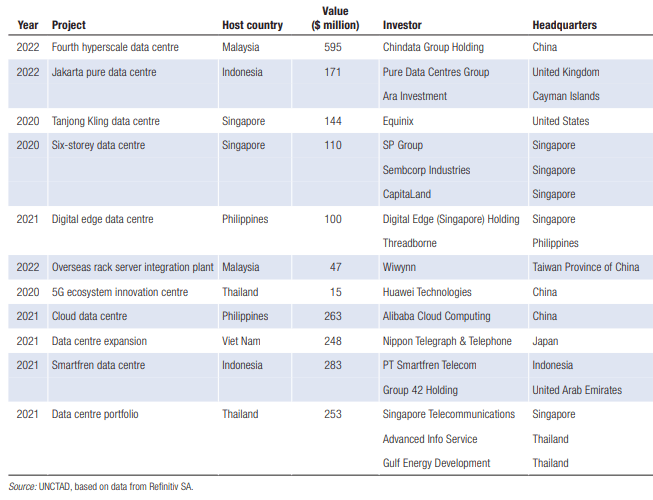 For example, FDI in information and communication increased more than fourfold to $7 billion in 2021.
The value of announced investments in information and communication accounted for more than 12% of the entire value of greenfield investments in ASEAN over the past decade.
Meanwhile, the investment and roles played by multinational companies in different Industry 4.0 value chains (e.g., industrial automation, additive manufacturing, Industrial Internet of Things, smart factory development) were analyzed in detail by ASEAN in the last couple of years.
ASEAN
The Association, comprising Burma, Brunei, Cambodia, Indonesia, Laos, Malaysia, the Philippines, Singapore, Thailand and Vietnam, expects the upward trend in investments in digital infrastructure and other technology segments of Industry 4.0 to continue due to strong growth in demand.
Having already hosted many data centers, some member states continued to receive increasing investment in this type of digital infrastructure.
Equinix (United States) completed its fifth data center, estimated at $86 million, in April 2022 in Singapore.
Meanwhile, Digital Realty (United States), after opening a third data center in Singapore in 2021, began establishing its presence in Indonesia.
While NTT GDC (Japan) opened a second data center in Indonesia and, in a joint venture with QD.Tek (Vietnam), is building a data center in Hanoi, KDDI Telehouse (Japan) is building a data center in Bangkok.
GDS (China) is developing a new data center campus and two new data center buildings in Batam. It is also building data centers in Johor Bahru (Malaysia) in collaboration with YTL Power International (Malaysia).
Regional data center companies based in Singapore are also actively investing in neighboring countries.
For example, Bridge Data Centers is building a fourth (hyperscale) data center in Malaysia; Data Center First is establishing a $40 million data center in Batam (Indonesia); Digital Edge with a 10MW data center in Manila, to be completed in 2022; and Princeton Digital Group is developing a US$150 million 22 MW data center in Jakarta (Indonesia) to be operational by the end of 2022.