English
Amazon increases its shipping costs 61% in 2020 due to increased transport
Amazon reported that it saw a 61% year-on-year increase in its shipping costs in 2020.
Shipping costs to receive products from your suppliers are included in your inventory and are recognized as cost of sales when you sell the products to your customers.
Amazon's shipping costs, which include sorting and delivery centers and transportation costs, were $ 37.9 billion and $ 61.1 billion in 2019 and 2020.
The company expects its shipping cost to continue to rise as its customers accept and use its shipping offers at an ever-increasing rate.
Overall, Amazon seeks to mitigate shipping costs over time, in part by achieving higher sales volumes, optimizing its fulfillment network, negotiating better terms with its suppliers, and achieving better operational efficiencies.
Amazon
Cost of sales consists primarily of the purchase price of consumer products, inbound and outbound shipping costs, including costs related to sorting and delivery centers and where the company is the transportation service provider, and digital media content costs where you record gross revenue, including video and music.
The increase in the cost of sales in absolute dollars in 2020, compared to the previous year, is mainly due to the growth of shipping and product costs as a result of increased sales.
Amazon expects cost of sales as a percentage of net sales to continue to be adversely affected for at least the first quarter of 2021 by costs related to Covid-19.
Pandemic
Covid-19 and the resulting global disruptions have affected the company's businesses, as well as those of its customers, suppliers, and third-party vendors.
To serve its customers while ensuring the safety of its employees and service providers, Amazon has modified numerous aspects of its logistics, transportation, supply chain, purchasing, and third-party vendor processes.
Beginning in the first quarter of 2020, the company conducts numerous process updates to its operations around the world and adapts its compliance network to implement security measures for employees and customers, such as improved cleanliness and physical distancing, personal protective equipment, disinfectant spraying and temperature controls.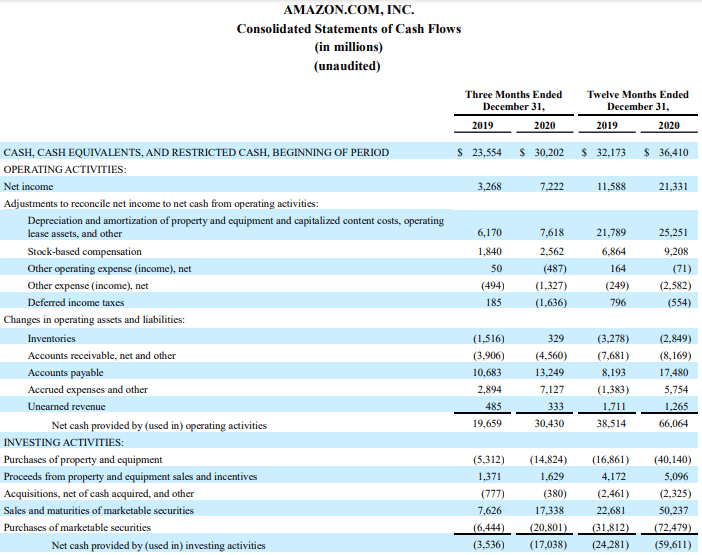 Since February 2020, the company has hired more than 400,000 full-time and part-time employees to increase the capacity of its compliance network.
Additionally, Amazon incurred approximately $ 4 billion in Covid-19-related costs in the fourth quarter of 2020, totaling more than $ 11.5 billion during 2020.